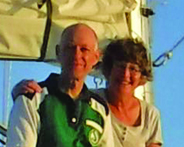 Congratulations to newly appointed Port Captains George Dew and Hélène Carrière for Collins Bay, Ont. (O-14)!
     George is a retired engineer / project manager; Hélène is a retired university administrator. Residents of Gatineau, Québec, they have sailed out of Collins Bay since 2017.
     Both learned to sail while members of the Georgian Bay Sailing Centre, which operated out of Parry Sound in the early 1980s. From the first time they met on a dock in Parry Sound they cruised together on the club's Edel 22 and Gib'Sea 36. During that time George's experience also included two Great Lakes transport trips between Parry Sound and Kingston (Lake Ontario) via the lakes and the Welland Canal. Please click here to read on.