Welcome to the Great Lakes
Cruising Club School!
The Great Lakes Cruising Club School (GLCCSchool.com) offers a variety of live internet-based webinars and webinar recordings on virtually all topics related to Great Lakes cruising plus sail and power cruising skills. These live webinars and recordings are available for viewing by GLCC members and non-members alike. Check out newly-opened upcoming live webinars, available webinar recordings, and planned future webinars on www.GLCCSchool.com. Registration is open for all listed upcoming open classes and recordings. If you aren't already among our hundreds of students, do check us out.
Beginning in November of 2023 GLCC webinars are FREE for any and all members of the Great Lakes Cruising Club.  Click here for the GLCCSchool Members Coupon Code.
The www.GLCCSchool.com web site is designed to work well on PCs, Macs, all browsers, tablets, and smart phones. Give it a try.
You don't need to log on to browse www.GLCCSchool.com, but we highly recommend you enroll in GLCCSchool if you haven't already done so. Enrollment is free. Remember that even if you have a GLCC club-site user-id and password you will need to have a separate GLCCSchool user-id and password since GLCCSchool is open to all, GLCC members and non-members alike. For security reasons we do not share IDs and passwords between the two web sites.
If you've forgotten your GLCCSchool password simply click "forgot my password" to reset it. If you've forgotten your user-id we also accept the email address you provided when you previously enrolled.
Registering for Classes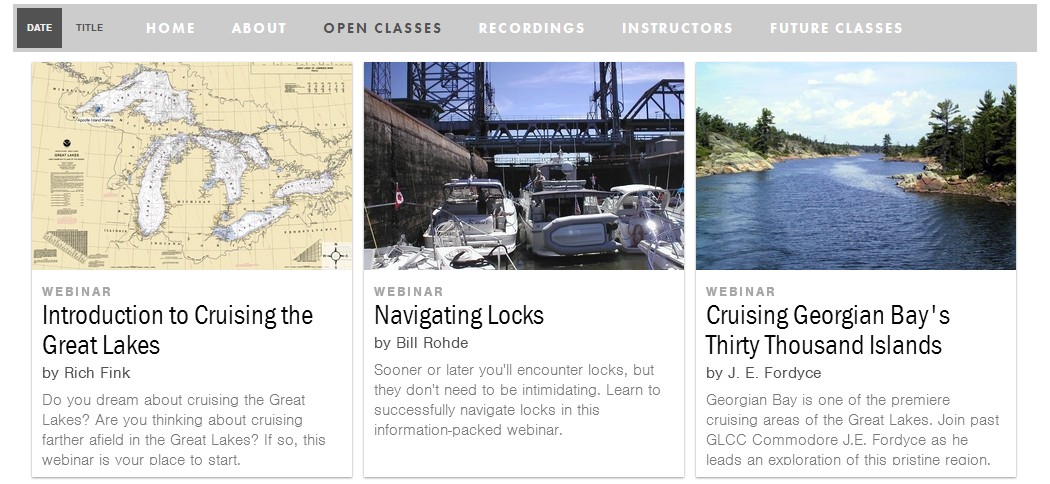 To register for any live or recorded class, after logging in to the GLCCSchool site with your ID and password simply click on the course in which you'd like to enroll (click "Open Classes" or "Recordings" and browse the class tiles). Next click "Add to Cart"  for any webinar you wish to register for and you'll be taken to the registration form for that class. Similarly you can add additional webinars to your cart before checking out if you wish. After check-out you'll receive an email confirmation and information about how and when to view your live webinar or recording.
Coupon Codes
GLCCSchool webinars are offered FREE to all Great Lakes Cruising Club members. If you are a GLCC member and are logged into this GLCC Website, click here for the GLCCSchool Member Coupon Code.
Are you a member of America's Boating Club? How about the Canadian Power and Sail Squadron? You qualify for a $5.00 webinar discount. Go to the GLCCSchool Home Page for details.
Can't Make a Live Webinar?
Recordings of each live webinar are made available for viewing by registered students for approximately six weeks after the webinar, so if the live webinar conflicts with your schedule make sure to register anyway to view the live webinar recording at your convenience. Registrants who participate in the live session are also provided access to the webinar recording should they wish to view the session again. Instructor Q&A when viewing a recorded webinar is handled through email.
Registrations are Now Open! 
Several webinars are presently open for registration. Just Click www.GLCCSchool.com to check them out!
See you in class soon!