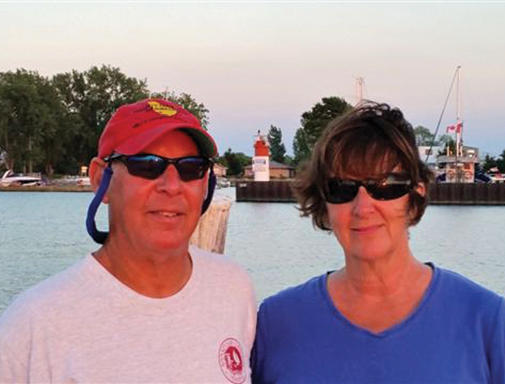 We welcome new Port Captains for Marblehead, Ohio (E-16.6) Alan & Eileen Clark. Here's what Alan had to say in their bio…
     While raising two children we were looking for a way to bring the family closer and eliminate outside distractions. We have always had a love for water. Sailing looked so relaxing while challenging and intriguing, it enticed us look further into this sport.
     I started sailing when I was 40 and coaxed my wife Eileen into it also!
     On Grand Lake St. Marys, Ohio, we raced and cruised a Catalina 22 for ten years. We then moved up to a Catalina 25, racing and cruising on Grand Lake St. Marys for eleven years. We trailered our Catalina 25 to Cleveland for their race week (we took second place!). This was our first experience on Lake Erie with our boat. Please click here to read more.