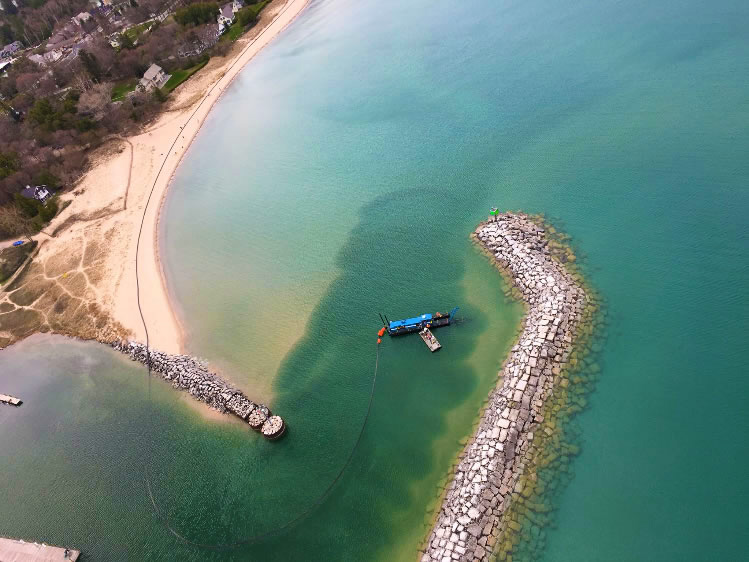 The combined work of the Township of Leland, Mich., the Township Harbor Commission, and a fundraising campaign titled Dig Deep for Leland Harbor (M-14), brought out the generosity of the public that enabled the harbor to be open this summer, and for many summers to come. Notable among the public donors was the Great Lakes Foundation, with a grant of $10,000.
     Leland, designated a Harbor of Refuge by the State of Michigan Waterways Commission, and a major stopover for boaters transiting from Frankfort in the south to Charlevoix and Grand Traverse Bay in the north, is more often than not plagued by weather-driven shoaling. If winter wind and waves are not bad enough, the harbor is often held captive by the budgetary and political winds of the two major partners for the township, the State of Michigan and the US Army Corp of Engineers.
     This year was no exception. The harbor was so badly blocked by a sandy shoal, it was virtually possible to walk across the harbor entrance and not get wet. Worst yet, the US Army Corp of Engineers would not be able to dredge it until August. With this backdrop, Leland took it upon itself to buy a dredge and its associated gear, the cost of which was in excess of $550,000. Additionally the recruitment and training of the operators loomed as a further expense. The township lacked the funds to pay in full the necessary monies. A homegrown campaign, Dig Deep for Leland Harbor, was started to raise the crowd-sourced funds to augment the township's contingency fund of approximately $300,000. Kate Vilter, who organized the project, said: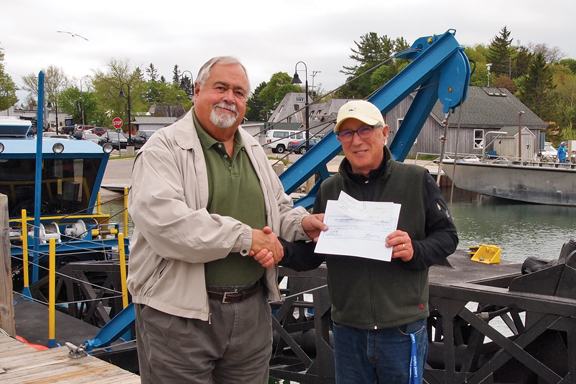 "The Leland community really came together to support a permanent fix for a problem that has been going on for years. Our village, our summer residents, boaters, and tourists from near and far, realized that the harbor dredge purchase had to happen. Our local economy, our families, depended on it. I have been honored to be a part of this project, as it has really shown the generosity of our community. We were able to raise almost $300,000 in eight weeks. It's an amazing accomplishment, that I am so proud to be a part of."
     Leland was able to fund the entire project, including the staffing of the dredge. Harbormaster Russell Dzuba commented, "The generous support of the Great Lakes Foundation helped put them over the top."
     In the end, for this year and future years, the harbor will remain a welcome respite from foul weather, or just a fun location that breaks up the long trip through the Manitou Passage.