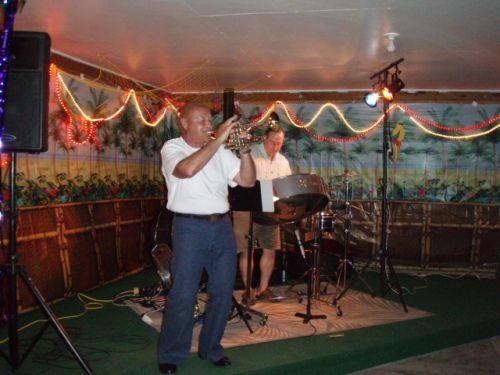 Our annual Lake Erie Rally was held June 13 – 15 in Leamington, Ontario. 
A pre-event trip to a local winery for tasting and dinner was attended by 40 of our members. Friday included Happy Hour and a great chicken and fish dinner in the pavilion. Saturday brought a pancake and sausage breakfast provided by the Leamington Yacht Club. 
Following the breakfast, a Port Captain's meeting was held in the Pavillion, led by Port-Captain Coordinator Roger Hankle, and this was followed by a Power-Point presentation and demo of our new website by Bill Rohde of the GLCC IT Committee.
After lunch, Kerry Murdoch and her fellow Canadian Border Services officers gave us valuable information on the Nexus Program, as well as the services they provide and the duties they perform.
The theme of this year's rally was "Jamaican Me Crazy," and Saturday evening we enjoyed a terrific pig roast with all the trimmings, with music provided by "Steely Pan" – a one man steel band, assisted occasionally by Rear-Commodore Dave Miller on the trumpet. Roger Hankle and Joyce Rogers were just two of the many who dressed for the occasion.
Many thanks to Jim and Janice Ehrman for another job well done.
Report by Susan Atkinson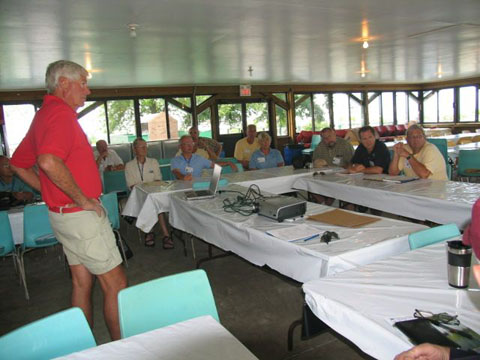 The Port-Captain's Meeting...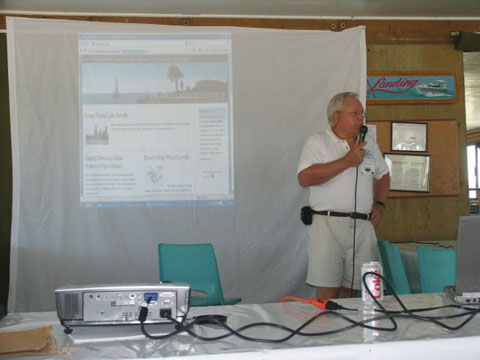 Bill Rohde demo-ing the new GLCC web site...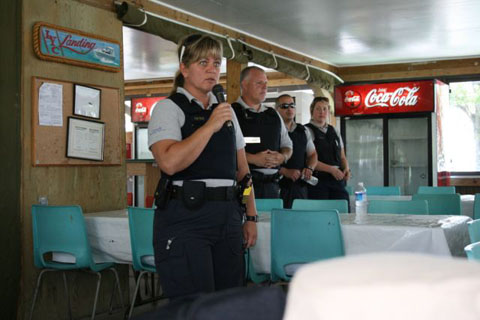 Canadian Border Services...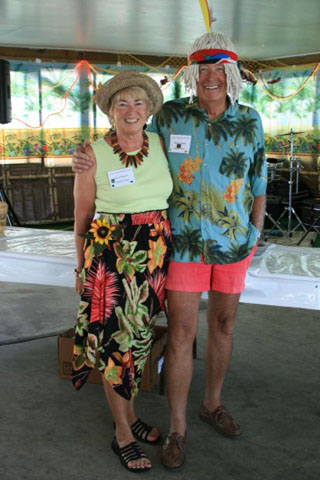 Rasta dancers...
Here's Bill Rohde's account (from his web page):
June 12-14 -- The Great Lakes Cruising Club Lake Erie Rally
The GLCC Leamington Rally (pronounced Leemington) has the reputation of being one of the biggest and most fun of all GLCC Rallies.  This year's Leamington Rally, "Jamaican Me Happy", didn't disappoint, and offered a great opportunity to get to know a number of members from this part of the world. 
For forty-some of us early arrivers, a special bus had been arranged for a vineyard tour and dinner Thursday night at the Muscedere Winery, about 30 minutes from Leamington.  This area of Ontario, lying at about the same latitude as Italy and with a climate moderated by Lake Erie, is starting to produce some surprisingly good wines.  The small, high quality, winery was started about 6 years ago by two brothers whose Italian grandfather had been a vineyard consultant in Italy's Tuscany region.  The family knowledge of grape growing and wine making is clearly being maintained with the current generation of the family.  Some of their wines have already won top prizes in wine competitions.   Both of us agreed that we learned more about wines and wine growing on this tour than on any vineyard tour we'd taken in Napa or elsewhere.
Most of the nearly 50 attending boats arrived on Friday (see photo of the GLCC dock), with festivities officially kicking off with a Friday evening cocktail party and catered Lake Erie perch fry (chicken for those who don't care for fish, but the fish was fantastic ... who needs chicken??).  Saturday started with a pancake breakfast put on by the Leamington Yacht Club, a GLCC Port Captains meeting in the morning, and Bill's presentation (see photo) of the new GLCC web site (try it out ... www.glcclub.com).  The afternoon left time for informal socializing before and after a presentation by Canadian Customs and Immigration officers on current rules, regulations and procedures. 
Saturday night brought a Caribbean-themed cocktail hour followed by a pig roast and live steel drum music, providing a true "Jamaican Me Happy" island feel.  A number of members 
came in costume, and Lake Erie 
Rear Commodore Dave Miller brought his trumpet to play along with the steel drummer.  A clear sky with moon and stars reflected off the expansive lake view from  the pavilion and its outside patio area, offering a perfect backdrop for the event.  A good time was had by all.
Most people left for their Ohio, Michigan, or Ontario home ports on Sunday morning.  We decided to stay an extra night to finish some of the things we hadn't yet gotten to Those chores now done, we're pretty well ready for the next leg of our journey.
In summary, Leamington 2008 was one spectacularly successful rally!