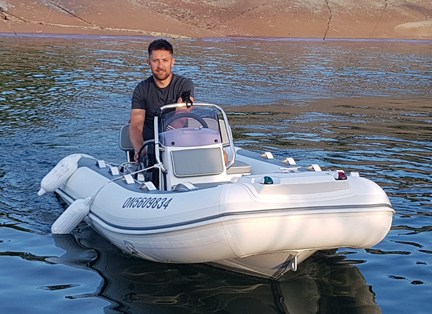 Newly appointed Port Captain for Wye Heritage Marina, Ont. (GB-22.4), Paul Strub is quite the explorer. Let's give him a warm welcome and if you stop by, be sure to give him a holler. Here's a little insight of his "learning the ropes"... 
   I was introduced to the cruising lifestyle around the age of ten while watching an episode of PowerBoat Television. They did a feature on Killarney and the North Channel. After watching the episode, I knew I had to eventually have a boat.
     Finally, in 2007 I got my first pocket cruiser, a 23-foot Cooper Yachts Prowler. I kept this boat four seasons as I learned the ins and outs of boating.
     In 2011, it was time for a bigger boat. So I decided on a 27-foot Sea Ray Sundancer. Moving to a boat with twin engines provided a bit more confidence, so it was time to make a trip to this Killarney place.
     I moored my Sea Ray in Bayfield, Ont., and the first season with it, I headed off to Tobermory and then Killarney. After being in Killarney and The North Channel for a couple weeks, I needed to boat from an area that offered better cruising. So summer of 2012, I moved the Sea Ray to Midland, Ont. That summer was spent exploring as much of the 30,000 islands as I could, as well as another trip back to the North Channel.
     Spring of 2013 it was again time for more space. I sold the Sea Ray, and purchased a 32-foot Carver Mariner. I have been boating with Orca ever since.
     In the summer of 2013, my third year to sail in the North Channel, while spending a night on the dock in Little Current, I met Harald and Kathryn Braun from S/V Spirit. We hit it off, and they introduced me to the GLCC.
     Currently I spend my summer weekends cruising the many gunk holes of Georgian Bay, and spend a minimum of three and a half weeks in the North Channel.
     I'm looking forward to getting more involved with the Great Lakes Cruising Club.