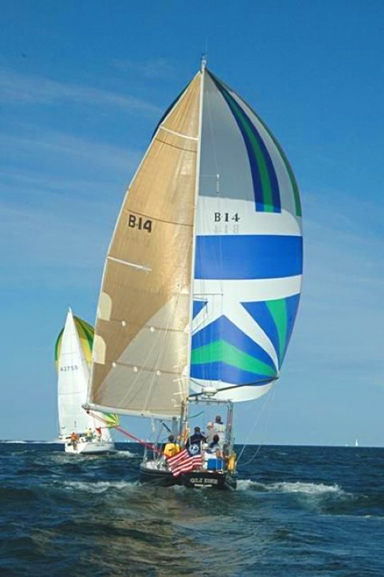 Let's welcome newly appointed White Lake, Mich. (M-21) Port Captain Chip Sawyer to the alliance of GLCC helping hands. Here's a porthole glimpse of this sailor's story:
      I began sailing at the age of five. "Cruised" the western shoreline of Green Bay in a homemade eight-foot plywood pram with a bedspread sail. Probably put 200 miles on that craft. Graduated to a Seagull class sailboat at about the age of ten and began competitive racing. At age 17, I began cruising (North Channel, Georgian Bay, Lake Superior, half a Great Loop) in earnest with the then GLCC Port Captain for Menominee, Mich. aboard his 45-foot converted schooner.
     In 1998 when we acquired an S2 7.9 we would trailer to DeTour and do a couple of weeks gunk holing in a lot of skinny water in the North Channel. At age 59, I retired from a 37-year career in banking. Purchased a 39-year-old Cal 40 named Glider and joined GLCC. We did an extensive cruising conversion in 2004 (just thinking about the cost brings tears to my eyes) which has served us well the past 14 years, as we have put over 28,000 miles under the keel by the close of the 2016 season. Our cruising grounds have been primarily North Channel/Georgian Bay, Lake Superior (best wilderness cruising ever) and Upper Lake Michigan/Green Bay.
     Susan and I have been married for 53 years and have three children and six grandkids — sailors all. We have lived on White Lake for over 40 years. The welcoming towns of Whitehall and Montague on the east end of the lake have all the amenities for cruising boaters. I invite all cruisers plying the east shore of Lake Michigan to stop and experience this hospitality.