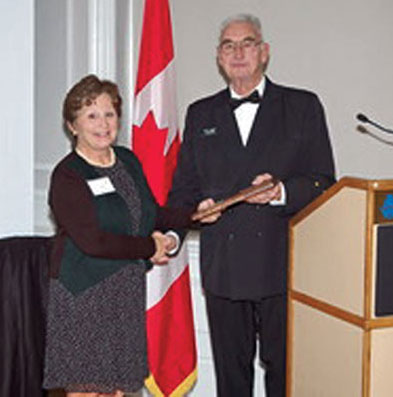 One of the highlights of the presentations made during the Annual Meeting Dinner are the awards given to our members for outstanding contributions to the GLCC.  This year, the award recipients are Past Commodore Niels and Vicki Jensen (Founders Award), Port Captains Sandi & Bill Matley (Award of Merit), and Port Captain Cynthia Sunstrum (Kivell Award). Click here to review the purpose of the awards.
Other presentations made at the dinner were Awards of Appreciation to retiring Board members Rear Commodores Roger Hankle and Bob Ogur and Director Vern Meyer. Jim Ehrman was presented his burgee for being elected Rear Commodore, Region 53.
Picture is of Port Captain Cynthia Sunstum receiving her award from Commodore Rich Barzyk.