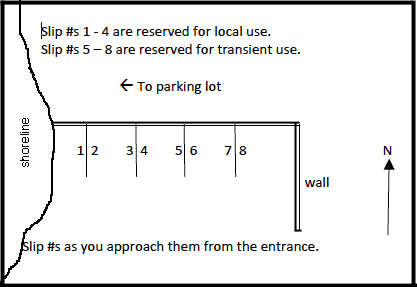 For many years there has been unauthorized use of Transient Slips at S-220.6 Whitefish Point by local boaters. In the 2009 season, with the help of GLCC boaters, we were able to document this unauthorized use, and this information was forwarded to those who have taken steps to rectify this problem. We would like to continue this successful campaign and once again request GLCC member input for the coming 2010 season.
We request that any cruisers passing through note if any of the Transient Slips #5-8 are occupied. See the sketch for the slip numbers.
Please note the following:
the date,
if slips 5 – 8 are occupied,
names of boats that are in these slips,
if possible, photos.
It is important to get the correct slip numbers—please refer to the diagram in the dock sketch.
Please send info to Ron & Bonnie Dahl at: dahlfin2@gmail.com or send to the GLCC office at glcclub@att.net.
Note on another issue: that after an extensive writing campaign last winter, we have received notification from the Operations Chief of the Army Corps of Engineers that they will again dredge the entrance in Whitefish Point this summer after 1 July 2010. This comes less than two years after the last dredging (August 2008) which proved ineffectual as the shoaling quickly returned.
Ron & Bonnie Dahl
Dahlfin