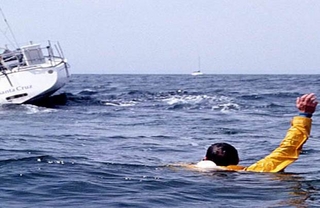 On Wednesday, February 18, at 8:00 p.m. Eastern/7:00 p.m. Central, Sheila McCurdy and Ron Trossbach, both extensively experienced boaters and moderators/moderator leaders for US Sailing's Safety at Sea seminars, are teaming up for this year's expanded edition of GLCCSchool's webinar, Safety for Cruising Couples. Click here for more information and to register for class.
Most cruising couples have one who is more experienced and one who follows directions. This system can work until the skipper is incapacitated or busy trying to control an emergency. Both people need to know how to retrieve a person from the water, how to use the radio to get help, and how to navigate toward safety. That confidence will bring peace of mind to both.
For this year's class Sheila McCurdy has invited Ron Trossbach to team with her in addressing a number of additional topics not covered in last year's session, including in part how to effectively use your VHF's Digital Selective Calling (DSC) features as a significant new tool in emergency situations, how to approach some of the unique considerations when dealing with emergency events aboard power boats, and more. Even if you attended last year's session you may wish to attend again this year, both for this expanded material and as a good refresher on last year's topics.
All boaters, whether power or sail , whether cruising as couples or with larger crew, will find this webinar an invaluable opportunity to brush up on their on-board safety skills from two of the the boating world's most widely recognized experts (for more information click the associated instructor links on this page). And if you primarily boat as a couple, we highly encourage you attend the webinar together. Only one registration is required if viewing from the same computer.