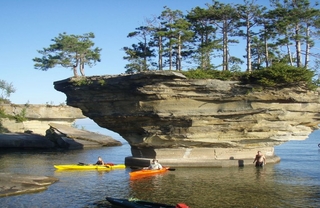 Lake Huron is blessed with many wonderful and interesting ports and small towns up and down both the Canadian and Michigan shorelines. This season the GLCC is presenting two Lake Huron webinars roughly dividing the lake at the 45th Parallel. On Tuesday, January 27, at 8:00 p.m. Eastern/7:00 p.m. Central, Captain Craig Murchison will share his cruising experiences of Lake Huron South of the 45th. Click here for more information and to register for class, or get both Lake Huron webinars for a Special Package Price.
This NEW webinar describes cruising along the Michigan and Canadian shores of Lake Huron mostly south of the 45th parallel.  Participants will get a chance to visit the many quality harbors and boater friendly towns up and down both shorelines.    Our presenter, Captain Craig Murchison, will be sharing his 20+ years of cruising experience in this area and his insights on the many great destinations available without travelling great distances or too far from shore.   Craig will also be pointing out all of the towns presenting summer festivals along with other special and unique activities of interest cruising boaters. 
And if you are a trailer boater --- No problem! All of these Lake Huron harbors have great cement launch ramps and ample motel accommodations to meet your vacation needs.  
Join us to find out how much fun "harbor hopping" in Lake Huron can be!