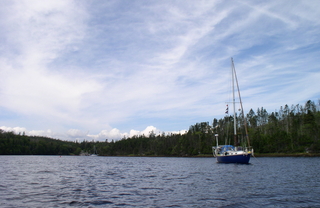 Lake Superior is the largest of the Great Lakes. Measured by its almost 32,000 square miles of surface area it's also the largest lake in the world. And it's deep (over 1300 feet at its deepest point), long (about 350 miles east to west), and provides an almost unbelievable 2,726 miles of shoreline to explore. On Tuesday, January 20 at 8:00 p.m. Eastern/7:00 p.m. Central, join experienced Lake Superior Cruiser Fred Bagley as he demystifies this most pristine of cruising lakes in his webinar, Introduction to Cruising Lake Superior. Click here for more information and to register for class. This webinar is also available as part of a Five Webinar Discount Package that includes this live webinar and recordings of four other Lake Superior webinars.
This webinar will take you from the Sault Locks at the lake's eastern end, west along the lake's Michigan and Wisconsin southern shores to the beautiful Apostle Islands, up Minnesota's northwest lakeshore and Isle Royale National Park, and finally across Ontario's breathtaking north and east wilderness shores before closing the circle in Whitefish Bay and the Sault.
Cruising Lake Superior is an achievement as well as a vacation. While many regard Lake Superior as cold, intimidating, and perhaps even dangerous, Fred will share fundamental practices that have been used by thousands of Lake Superior boaters to help them enjoy this most awesome of Great Lakes. He'll examine why Lake Superior's wilderness cruising opportunities are regularly cited as among the best in North America. He'll cover topics from fishing to fuel, harbors to hiking, shipping lanes to shipwrecks, and everything in between, plus provide helpful links to additional Lake Superior cruising resources.