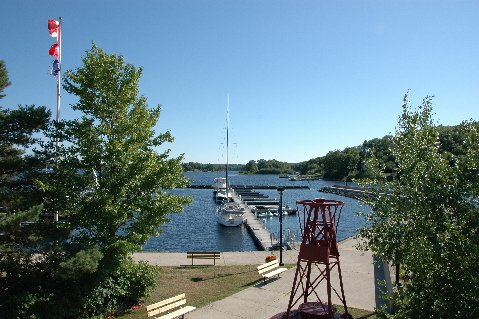 by Rear Commodore David G. Allen
This year's Rendezvous at Parry Sound, ON, July 15-18, will provide GLCC members with a cruise of a lifetime. Your trip in and out of Parry Sound will be a unique opportunity to see and experience first hand the area known as the 30,000 Islands.
In recognition of the unique beauty of the region, the United Nations recently designated the waterway, north and south of Parry Sound, as a world biosphere reserve, and goes so far as to call Georgian Bay "the Sixth Great Lake".
Not only will the trip be memorable, but the Town of Parry Sound is rolling out the red carpet to welcome the GLCC members to the Big Sound Marina and Town Dock. The business owners in town even have a special surprise in store for us on our first night at the dock.
The 2012 Rendezvous will have something for everyone, but space is limited. Whether you are coming by boat, recreational vehicle, or car, we have an exciting program lined up, including participation by the Canadian Coast Guard, the Ontario Ministry of Natural Resources and some of very own members, who will describe for us areas up and down the Bay, which are not to be missed.
For more 2012 Rendezvous details and registration please CLICK HERE.