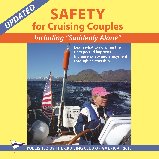 As a follow-up to the Wednesday 12/16 GLCC Webinar "Safety for Shorthanded Cruisers and Cruising Couples", the popular SUDDENLY ALONE (SA) program originally developed by the Cruising Club of America (CCA) and the Bonnell Cove Foundation has been repackaged as a small scale "do it yourself" presentation for sailing clubs and organizations and renamed Safety for Cruising Couples (SCC). Course materials are available by Dropbox for local speakers to personalize and use as desired. These materials include subject descriptions and sample PowerPoint files for the course Introduction and Psychology presentation and four other technical segments.
CCA is offering the revised/updated workbook, Safety for Cruising Couples, including "Suddenly Alone" to anyone interested in this subject at cost ($15.00). Anyone who wishes to receive a copy should e-mail rontrossbach@msn.com with their mailing address. They will be given payment instructions by return E-mail when the book is mailed.
Note also that if you missed GLCCSchool's 12/16 live webinar taught by Ron Trossbach and Sheila McCurdy from the CCA, a recording of it is now available for registration at www.GLCCSchool.com under "Recordings".