Port Captain Introductions: George & Mary Thor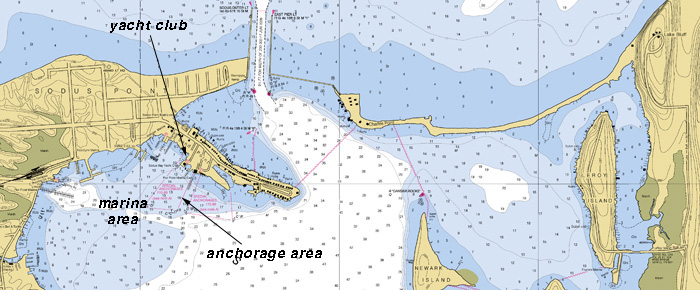 Introducing George and Mary Thor, as newly appointed Port Captains for Sodus Bay, N.Y. (O-5)! Here's an inside look at their boating experience.
     Mary and George moved to the Rochester, N.Y. area in 1973 and started boating on Lake Ontario in 1984 with a Catalina 22. They kept the 22 for only one Summer as they found it a bit small for their two daughters and themselves.
     They moved up to a Newport 27, a C&C design. In 1985, their second year with SeaWeeter, their 27, they crossed Lake Ontario for Toronto accompanying friends in their Newport 33. In 1987 they cruised to the West entrance to the Murry Canal to enter and explore the Bay of Quinte. While they had SeaWeeter, they made yearly Summer voyages across Lake Ontario to Kingston and the Thousand Islands visiting Little Fair Haven, Oswego, Henderson Harbor, Cape Vincent, Sackets Harbor, Chemoy Bay along the way. What's interesting about these voyages was that this was at a time before LORAN and GPS and they did their navigation using dead reckoning.
     Once the time their daughters were in Middle School, the 27 was found to be too small and they moved up to a Newport 33 in 1989. Again, with their daughters they sailed SeaWeeter II across the Lake each Summer to Canada. In 1998 my Mary and George traveled up the St. Lawrence to Upper Canada Village. This time with the 33, they had LORAN but still had to plot the position on a chart.
     In 2010, George wanted to expand their cruising grounds, so he sold the 33 and bought a 1991 Marine Trader 36 trawler, DreamWeaver. He spent the next 5 years repairing her defects and adding additional equipment for an eventual adventure to the North Channel. All the mechanical systems, engine and electrical work he did himself. George left fiberglass work to the professionals because he felt he would—just mess it up! Caring for his previous sailboats taught him much and he really learned a lot more working on DreamWeaver, especially about large diesels.
     By 2015, the boat was ready and they spent over three months traveling up the Trent-Severn, Georgian Bay to the North Channel and back. It was the highlight of their boating adventures.
     They used a GPS plotter and a laptop running Polar View software with a GPS dongle as backup on this trip. Navigating Georgian Bay without these new tools would have be much more difficult.
     One more cruise on the trawler in 2018 took them up the Rideau Waterway to Ottawa. Mary did not want any more long-time cruises, and operating a motor boat for short (2-3 week) cruises in home waters and weekends was just not interesting, so the trawler was sold and Outlander, the 2005 Catalina 350 bought.
     Please give George and Mary a warm welcome and a hearty "ahoy" while you're in Sodus Bay!