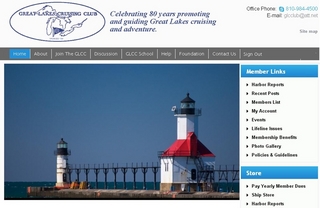 The GLCC club's web site is a treasure trove of information and features. This FREE webinar, updated to reflect the site's most current capabilities, will help you fully access its potential. Instructor Joann Mead shows us how on Monday, December 15 at 8:00 p.m. Eastern/7:00 p.m. Central in Getting the Most Out of the GLCC Web Site. Click here for more information and to register for this class.
You've no doubt accessed the GLCC Web Site to check out Great Lakes news or GLCC club  information. But what about some of the other extensive capabilities there? For example, do you know how to add your own observations to harbor reports so other members will immediately benefit from information about that uncharted reef? Are you proficient in retrieving PDF copies of harbor reports and/or printing harbor reports yourself for use while underway? Do you know how to register to receive notifications whenever information you're interested in has been updated? Are you aware of all the benefits offered to GLCC members ... benefits that could more than pay for your membership dues? If you answered "no" to any of these questions or have other questions about GLCC web site usage, make sure to sign up for this free webinar. The webinar will include a live web site walkthrough from the basics to more advanced capabilities. GLCC Web Site Committee Chair Joann Mead will also be prepared to interactively answer whatever questions you might have, plus demonstrate how to do the things you're asking about ... live!
While primarily oriented to GLCC members seeking to more effectively utilize the many features on the glcclub.com web site, non-members are also welcome to attend this free webinar to learn about all the capabilities and benefits offered by the Great Lakes Cruising Club.