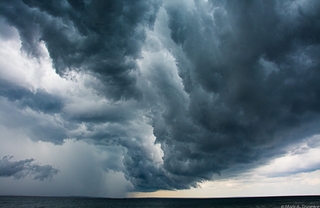 This final class in our series of four Great Lakes marine weather webinars explores in depth the most common severe weather phenomenon on the Great Lakes, Thunderstorms, and goes on to discuss how to start building your own marine weather forecasts. Join meteorologist Mark Thornton on Monday, March 21 at 8:00 pm Eastern/7:00 pm Central for his webinar, Thunderstorm Primer / Creating Your Own Marine Forecast. Click here for more information and to register for class.
Thunderstorms can quickly ruin an outing on the water, whether it be a short day excursion or a longer distance passage. The first half of this class will cover the types of thunderstorms and the dynamics that lead to their formation. You'll learn to use readily available Internet forecasting resources to dramatically reduce your chances of a hair-raising encounter. Thunderstorms need not be a surprise.
The second half of this class will introduce a daily forecasting routine using a variety of readily available on-line forecasting resources such that you can better assemble and understand the likely conditions you'll be encountering as you head beyond the confines of your marina.