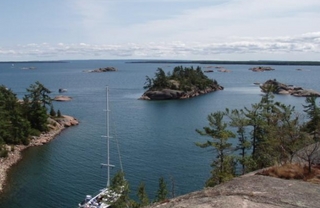 Cruising the Canadian North Channel of Lake Huron puts you in one of the top ten cruising destinations in the world. Although known for its wonderful scenery, very limited shoreline development, and an abundance of wilderness anchorages, almost any boating service you might require can be found amongst the many charming small towns and ports that are sprinkled amongst this gorgeous wilderness. On Wednesday, April 27, at 8:00 pm Eastern/7:00 pm Central, Roy Eaton, life long boater, cruiser and native of the North Channel, takes you on a virtual cruise in his webinar, North Channel Ports. Click here for more information and to register for class. This webinar is offered at a special discounted price of just $10.00.
You'll also learn about the Little Current Cruisers' Net, found and moderated by Roy and the Little Current Yacht Club. Each morning during July and August, on VHF Channel 71 at 9 am, boaters from throughout the North Channel cruising area tune in to hear the latest marine weather reports, world news, sport scores, business and financial reports, Manitoulin Island happenings, and notices of other upcoming events. Then the following part of the broadcast is devoted to check-ins from boaters, responses to cruiser questions and responses to requests. Every broadcast begins with an open moment to collect any emergency traffic. The LCCNet has provided important help to cruisers and connected them with family or assistance when no other communication was able to do so.
This webinar will have the latest information available, including the latest reports concerning various harbour entrance changes and current depths.
In this webinar Roy will be covering the following items pertinent to North Channel cruising:
-          Where to leave contact information for those at home while you're cruising
-          Medical assistance in the North Channel region
-          Cell phone and internet coverage (or lack thereof in many areas)
-          How to relay messages to friends
-          Friday Cruisers Net Happy Hours
-          Invitation to visit the Little Current Yacht Club clubhouse
-          WD 40 for the mind – free summer seminars for boaters
-          Special sites to see in the interior of  Manitoulin
-          Hikes to take from several anchorages
-          Fossils, wildlife, blueberries and fishing
-          Highlights of events and dates available in the different communities
-          Listener's questions