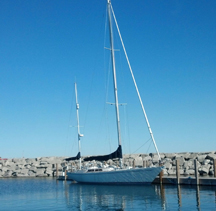 Ahoy Sailors:
Happy New Year! 
The Michigan Crossroads Council, Boy Scouts of America, is seeking a First Mate for the 2014 Summer season to one seeking to gain sailing and sea time experience, this is a great summer job! 
If you know of anyone that would be interested in this position, please forward this posting.
The First Mate will live aboard and serve on the Retriever, an Alden 52', the council's beautiful new ketch operating out of Mackinaw City, Michigan.
He or she will work with a USCG Captain to crew the Retriever for BSA groups of up to 14 participants for 10 week-long sessions and 6 weekend sessions throughout the northern Great Lakes. He or she will be responsible for assisting the captain to insure each group charter is executed in an orderly manner. This salaried position will involve teaching the fundamentals of sailing, performing routine maintenance, and helping to oversee the overall success of each charter.
The First Mate must possess, or be willing to obtain, a certificate of training from the Trek Director Section of BSA National Camping School and Wilderness First Responder. The Council will be able to assist in acquiring both certificates. Must be a member or be willing to register with the Boy Scouts of America for this period.
21 years old is preferred, but will consider younger, based upon overall qualifications. Must be in excellent health, have sound communication skills, possess basic knowledge of sailing and be an accomplished swimmer. To apply, please have them forward a resume including sailing experience, by February 15, 2014, to:
MCC.Sailing@Scouting.org
.
Thank you,
David Rowe
Chairman - Michigan Crossroads Sail Training Program