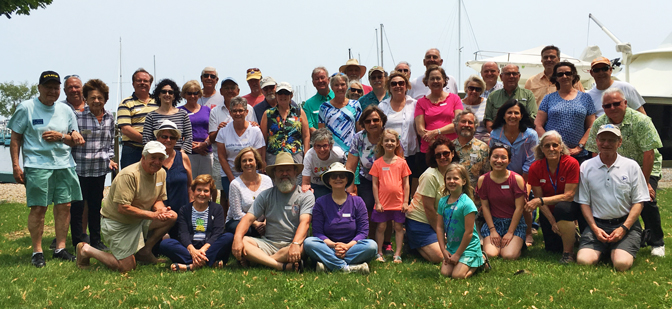 Click here to register / Click here for the information flyer / Click *here for the COVID-19 Waiver
(Please register by 6/1/21; no refunds for cancellations after 6/1/21 (unless the event is cancelled by GLCC))
      We are open for the "GLCC Lake Erie Picnic" held on Saturday June 5, 2021. All members and guests are welcome. We will be following all CDC guidelines, so bring your mask. Food will be purchased and served. There is no need to bring a dish to share this year.
      Herl's Harbor Marina Park is once again, our host, located East of Port Clinton on Catawba Island (E-16.8), North SR 53. The address is 2263 N.E. Catawba Road, Port Clinton, Ohio, 43452. Gathering time is noon. We have a large sheltered backup location on site in case of rain. Please register on the GLCC website at $10 USD per person for our food count. Last minute deciders, come anyway and bring $10 USD each!
     We are providing wings, hamburgers, hot dogs, potato salad, chips, baked beans, coleslaw, mixed fruit, cookies, all condiments, plates, plastic ware, soft drinks, cups, and water. You may bring an adult drink and a lawn chair to supplement distance picnic table seating. We tell tall boating tales, renew friendships, and welcome new GLCC members.
     Sharon and I hope you will be able to attend this fun event.
Denny Dutcher S/V Turning Point
Port Captain, West Harbor, Catawba Is, Ohio
Denny and Sharon Dutcher, GLCC Lake Erie Picnic
937-602-8391
Click here to register / Click here for the information flyer / Click *here for the COVID-19 Waiver
(Please register by 6/1/21; no refunds for cancellations after 6/1/21 (unless the event is cancelled by GLCC))