2020 Boat Shows – GLCC Booth Volunteers Get FREE Admission!
Whatever Great Lakes region you're near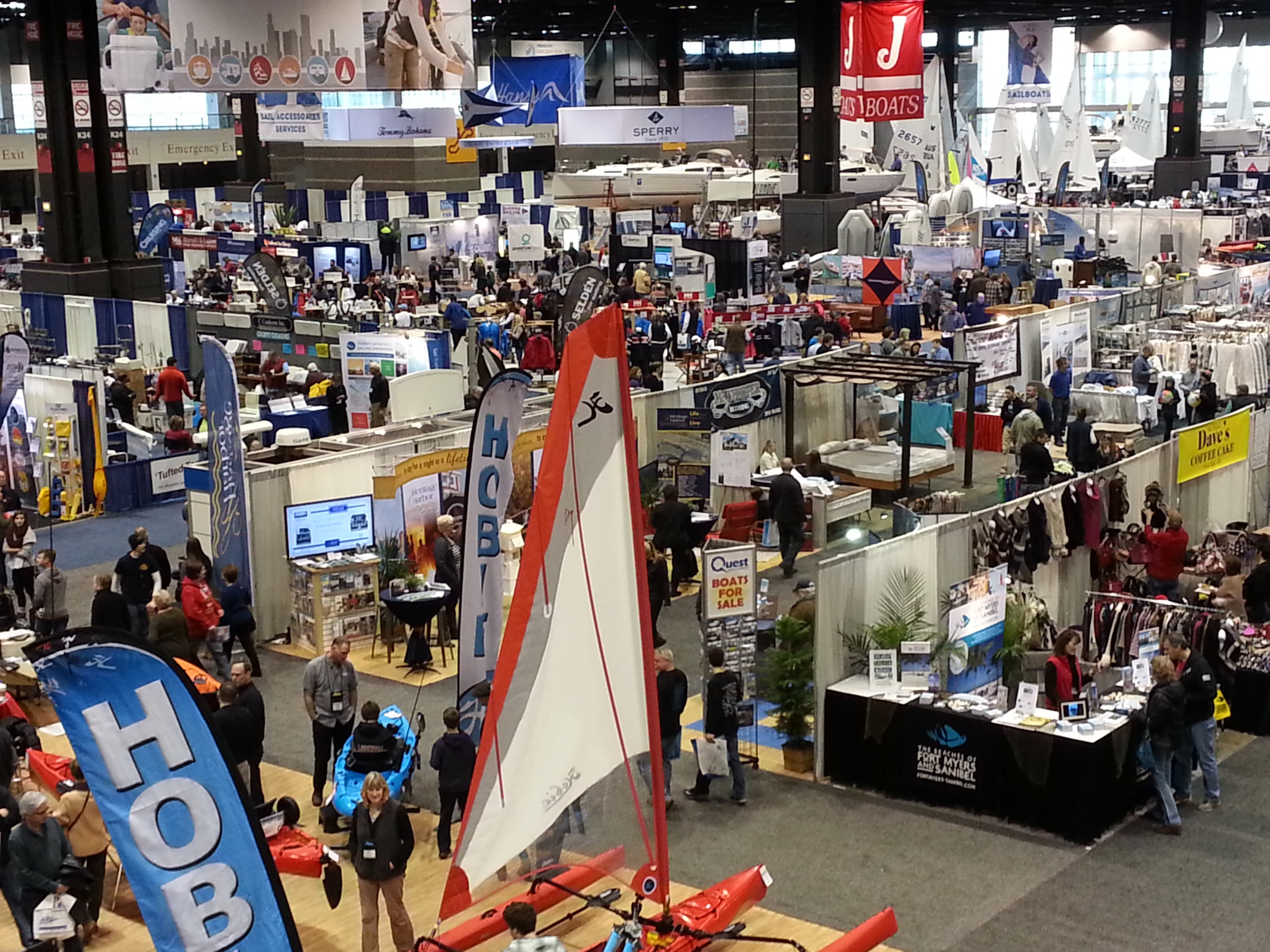 , there's a boat show that needs you…
     The 2020 Progressive Chicago Boat, RV, and Sail Show will be held on January 8–12 at McCormick Place. Arguably, one of the largest shows based on the number of square feet utilized. As with the other Midwest shows, the GLCC will once again have a booth that needs GLCC members to work it. It's a lot of fun and a very rewarding experience. You will get to know other GLCC members, while explaining to non-members all the benefits of being a member.
     But the main purpose of the booth is to recruit new members. The boat shows are one of the major sources of new members for the GLCC. And to make the job of selling the GLCC any easier than it already is, there is special boat-show-only pricing. But none of this can happen without members to be at the booth. Its lot of fun and you will get into the boat show without paying an admission fee.
     If you would like to consider helping out, contact past Rear Commodore Len Nowak at: len@jackiesloaninc.com or at 312-835-0014 -or- Rear Commodore Philip May at: editor.lifeline@gmail.com or at 312-972-7476.
     To get Free Admission to the 2020 Progressive Cleveland Boat Show, all you need to do to be a part of the Great Lakes Cruising Club booth cadre at the IX Center Boat show. You will meet and talk with people from all walks of boating. What an enjoyable experience you will have, plus you get into the show free, and can see the show at your leisure. Come and join us for the 2020 Cleveland boat show. The show runs from January 16–20. To sign up for a couple of hours, contact Rear Commodore (Ret.) Dave Miller at capdave@centurytel.net or 216-210-2136 to reserve your spot. Space is limited so sign up early. Hope to see you there…
     The 2020 Toronto International Boat Show will once again open its doors from January 17–26. The Great Lakes Cruising Club has had a booth at the show every year since 2001 and we will be represented again for the 20th year in a row. The Toronto Boat Show has always been a good source of new members. The 2018 and 2019 Shows were particularly successful in attracting new members, largely due to a new and more strategic location for our booth.
     Our booth is staffed by member volunteers, and once again we are soliciting your help in order to make our participation a success. We have always had a good group to help out with the work, and it is always fun to renew ties at the show. The workload is not onerous and is a great way to help your club, as well as providing an opportunity to enjoy the boat show since your admission to the show is included. For out-of-towners, there are some good hotel prices through blocks set up by the Boat Show. See the Boat Show website under the Exhibitor tab for details, and note there are deadlines to take advantage of the favourable rates.
     If you would like to consider helping out or if you want to know more about the GLCC participation at the Show, please contact Port Captain Cynthia Sunstrum at cynthiasunstrum@gmail.com/613-793-4984 or Past Commodore J.E. Fordyce at jfordyce75@rogers.com/Home 416-488-6038/Cell 416-805-0858.
     Come and join the fun!