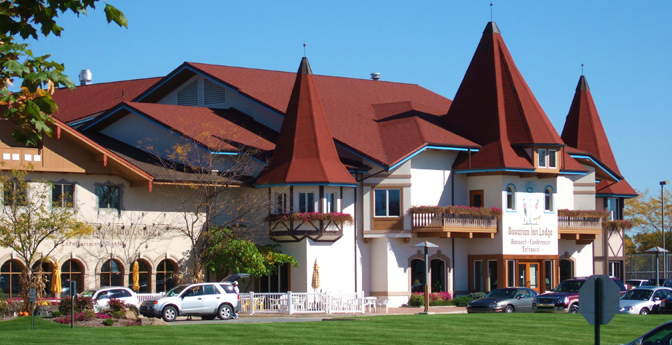 The April Launch Weekend (April 24–26) will begin Friday afternoon with committee meetings at the
Bavarian Inn Lodge
from 1300 to 1630. After the meetings members are invited to go to
Zehnder's
for Cocktails at 1700 followed by a Family Styled Buffet. After dinner attendees are free to visit the many shops and establishments in downtown
Frankenmuth
to continue the weekend fun.
     The Director's Meeting will begin on Saturday morning at the Bavarian Inn Lodge, members not attending will have an opportunity to visit either the
Birch Run Retail Shops
or
Bronner's Christmas Wonderland
. In the afternoon, attendees are invited to learn how to make a pretzel at the Bavarian Inn Restaurant followed by lunch, afterward returning to pick up their pretzel to enjoy as an afternoon snack. A Port Captains' Meeting is scheduled for later in the afternoon at the Bavarian Inn Lodge. The Commodore's Banquet will be begin with cocktails at 1700 with the dinner beginning at 1800. Our guest speaker is Nicki Polan, executive director of the
Michigan Boating Industries Association
. After dinner Commodore Rich Barzyk will host an afterglow at the Bavarian Inn Lodge.
     Sunday is a day of rest so the attendees will have a chance to sleep in, then have a leisurely breakfast on their own before either heading home or stopping at either Birch Run Retail Shops or Bronner's Christmas Village.
NOTE: The Bavarian Inn Lodge will be hosting the 'Newfoundland Dog Specialty Show' from April 25th to May 3rd 2020. The Bavarian Inn Lodge Events Coordinator explained that the registration for the dog show is on Sunday, April 26th and the Dog Show does not begin until Monday, April 27th. Some of the dogs with their 'people' will be arriving on Friday for a preregistration so there is a chance that you may be booked in a room near the dogs.  It has been suggested that to avoid any problems - you need to call the reservation desk at 855-652-7200. Tell the reservationist that you are with the Great Lakes Cruising Club and do not wish to be in a room near the dogs. You may wish to tell them you want to be in the front of the Lodge as the rooms containing dogs are generally located in the rear.
Our conference room and hospitality suite are not affected according to the Event Coordinator. The Lodge has over 160 rooms so this should not be an issue. She recommended that we do not use the online reservation system because of this situation. My thanks to Joann Mead for bringing this to our attention so any problems may be avoided.  Sincerely,  Tony Simion, R/C Region 47 (Detroit River – Saginaw Bay)
Please click 
HERE
to register online / Click 
HERE
for printable registration form. (No refunds after 4/17/20)
Tentative Schedule
Friday, April 24
  Bavarian Inn / ALTMUEHL Room...
1300-1630
 Committee Meetings
   Zehnders of Frankenmuth/Garden Room...
1700 Social Hour (Cash bar: US cash or US/CAN credit cards)
1800  Family style dinner w/fried chicken, roast beef, bread, salad, potatoes, noodles, vegetable, ice cream
 
Saturday, April 25
Breakfast on your own
  Bavarian Inn / ALTMUEHL Room...
0830-1200 GLCC & GLF BoD meetings
Bavarian Inn /Restaurant...
1245-1530 Pretzel Making & Luncheon (Optional): Frankenmuth Chicken combination, Turkey Club and Maize and Blue salad
Bavarian Inn / ALTMUEHL Room...
1530-1700 Port Captains' Meeting
1700-1800 Social Hour (Cash bar: US cash or US/CAN credit cards)
1800  Banquet Dinner with Frankenmuth Chicken, Pork Normandy or Stuffed Red Peppers, followed by evening speaker: Nicki Polan, executive director of the Michigan Boating Industries Association (Dress for the dinner: uniforms are encouraged with plus 4 ties -that's a regular tie with knot, suits and sport coats for the men. Dress casual for the women.)
Bavarian Inn /Lodge Hospitality Room...
2100  Commodore's afterglow
Sunday, April 26
Breakfast on your own
Lodging: Bavarian Inn Lodge & Conference Center: One Covered Bridge Lane, Frankenmuth, MI 48734 •
https://bavarianinn.com
  $169/stdrd dbl, $179/prm dbl, $244/ste, etc. US/night through 3/23/20
855-652-7200 mention group #12X87D
Please click 
HERE
to register online / Click 
HERE
for printable registration form. (No refunds after 4/17/20)
If you have questions, contact chairs: Rear Commodore Tony Simion at 586-258-9670 or
asimion3@yahoo.com
 or Rear Commodore Steve Reineke at 519-245-4001 or
steve@bam.on.ca
Event date:
Friday, April 24, 2020 - 12:00

to

Sunday, April 26, 2020 - 12:00