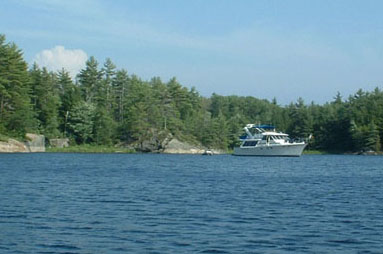 GLCC members and guests are invited to this year's Georgian Bay Rally that will be held at the Bone Island Anchorage (GB-26.3) the weekend of September 13–15. Cost is $20 USD/pp.
     The anchorage on the south side of Bone Island is the perfect spot to enjoy the fall colours and wind down the season with friends and fellow GLCC members. Plans are underway for an enjoyable event, starting with an informal get together on Friday evening. There will be plenty of time on Saturday to jump in your dinghy or kayak and explore the numerous bays and islands in the area, or to stretch your legs onshore. The day will be capped off with another social gathering on Saturday before everyone heads home Sunday.
     There will be more information forthcoming, so be sure to keep an eye on the Events Page on the GLCC website. You can also contact Rear Commodore Eric Sunstrum by email at ericsunstrum@gmail.com or phone 613-793-4982 with any questions or if you wish to help out with our organizing committee.
Click 
HERE
 to register online / Click 
HERE 
for a printable registration form (No refunds after 8/31/19)
Friday, September 13th
All day: Anchoring, Docking & Registration
1830:  Meet and Greet Social - bring a drink and snack
Saturday, September 14th
1100-1300:  Group Picnic - bring a lunch, soft drinks provided 
1400-1600:  "Fun in the Bay" - including dinghy and kayak races for prizes and bragging rights!
1730-1830:  Happy Hour and Fellowship – bring your own refreshments
1830:  Potluck Barbecue – Steak or Chicken provided, bring a side or dessert to share
Sunday, September 15th
0800: Depart Anchorage – Until Next Year!
Click 
HERE
 to register online / Click 
HERE 
for a printable registration form (No refunds after 8/31/19)
Event date:
Friday, September 13, 2019 - 12:00

to

Sunday, September 15, 2019 - 12:00