It was a st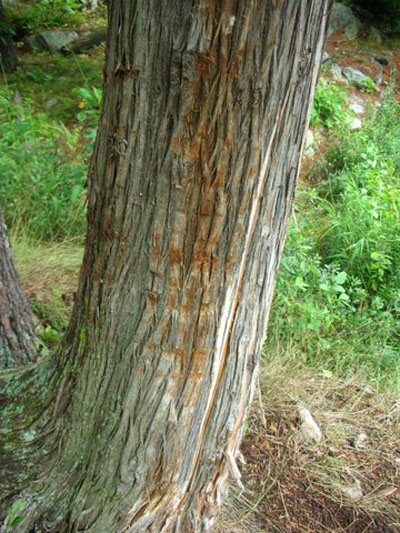 unning day in the North Channel.  Twelve knots of wind from the southwest, fluffy clouds, warm.  We are out in the open waters of Fraser Bay tacking back and forth, admiring how much better we were doing with our newly tuned mast.  But as the afternoon wore on we had to pick an anchorage for the night, so headed into Baie Fine (NC-83) and the protection of Mary Ann Cove.
 As GLCC members know, Mary Ann Cove is quintessential North Channel.  White quartzite hills coming steep to the water, narrow entrance, fully protected from all but north winds, and on this August day very full.
We like to anchor out and swing in the breeze but the center of the cove already had four boats. Around the edge of the cove were six boats with stern lines to trees on shore.  We circled a few times while we considered going somewhere else.  The forecast was for the wind to veer to the northwest and the north overnight as a front moved through. We finally decided to get out the stern lines, launch the dinghy and tie our stern off to shore.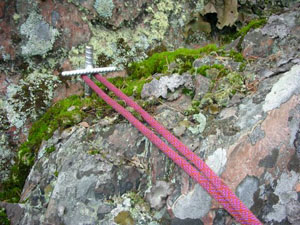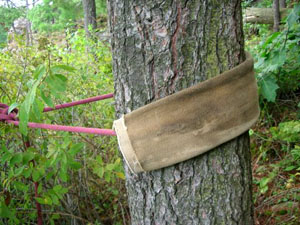 The standard method in Mary Ann Cove, and much of the North Channel, when tying off the stern is to find an obliging tree.  Now trees in Canada are tough; they wouldn't still be there if they couldn't handle periodic tornadic winds and killer temperatures.  But the trees near the shore of Mary Ann Cove clearly show the effects of years of being used as stern anchors. Chafe marks mar their bark, in some cases have worn through.  Do the trees die from this assault?  No, but should we take better care to protect them anyway? Yes.
We tied one of our stern lines to a tree, but only after running it through a piece of fire hose, not to protect our line but to protect the bark.  Rather than scrambling up a nearby cliff to another tree trunk for a second stern line, we inserted a piton made of welded rebar into a crack in the cliff and tied off to it.  Tensioning our two stern lines and then pulling in our anchor rode kept us from threatening our neighbors and kept us comfortable as the wind clocked around that night.  We spared a few trees in the process.
GLCC members are known as good stewards of the cruising grounds they frequent.  But being good stewards means not abusing anchorages, and that means protecting the trees that line the shorelines of anchorages.  GLCC members should rise to this challenge by devising their own ways of tying to shore without using trees or at least minimizing the damage if they must tie to trees.  The rest of the cruising community will eventually follow suit.
 Jennifer and Fred Bagley
 "Catamount"