Are there any training materials available to guide me in using this site?
A free video class demonstrating live use of the GLCC Web Site is available for viewing at your convenience.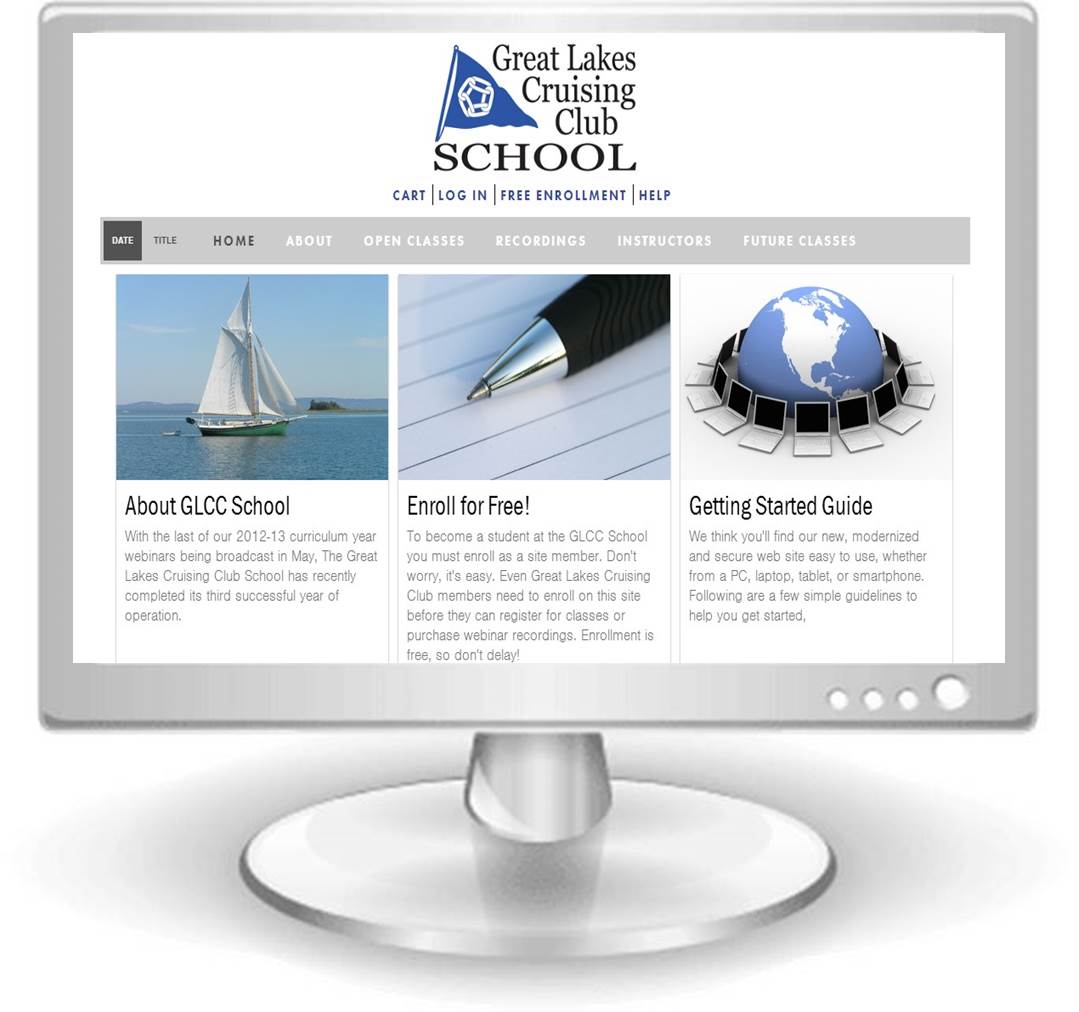 Click HERE to register for GLCCSchool's "Getting the Most out of the GLCC Web Site" webinar. Once registered, you may watch the recording as many times as you'd like at any time that's convenient for you.  
If you haven't previously registered for a GLCCSchool webinar you will also need to enroll with GLCCSchool. Enrollment is also free -- Just click the "Free Enrollment" link at the top of any www.GLCCSchool.com web page screen.
How do I register for this site?
Use the Sign In/Register link at the top right of this page.  Select the "Create new account tab on that page" or simply go here. Note that the GLCC office will verify your membership status before membership permissions are activated (for example, to access the harbor reports). The approval may take 24-48 hours.
Please note when accessing the site, that the full address should be used:  www.glcclub.com  (don't leave out the www).  Login and access issue arrise if the full URL is not used.
How do I provide new or updated information about a particular harbor report?
As a member, you can post your feedback directly to the report as a comment:
Visit the harbor report in question
Scroll to the end of the report.
Use the "Post new comment" fields to enter your feedback. Don't forget to select the "Post comment" button when finished.
The GLCC Log-Book Committee regularly reviews the comments attached to harbor reports and uses the information posted there to update the report.
Port Captains have editing privileges and can edit their own harbor report (or others if they so choose).  There is a practice harbor report for editing at http://www.glcclub.com/test-page-port-captain-editing.
How do I print a harbor report?
To print a single harbor report:
Open the harbor report.
At the top of the report, choose "Printer-Friendly Version."
In your web browser's main menu found across the top of your screen, choose File->Print.
To print multiple harbor reports from one region at once:
Open the "area" page (for example, in Lake Michigan, the "Little Traverse Bay" area contains 7 harbor reports).
At the top of the area page, choose "Printer-Friendly Version."
Use the File->Print command in your browser, and all of the harbor reports in that area will be printed in a single document.
NOTE: use this option cautiously, since some areas contain many many harbor reports, all of which will be printed in one job.
To save a harbor report for later printing or viewing off-line:
Choose "Printer-Friendly Version."
Use the File->Save as command in your browser.
If you can create a PDF on your computer, create the PDF from the "Printer-Friendly Version."
How do I get PDF versions of Harbor Reports?
You can make a PDF file of any harbor report or group of harbor reports. The PDF files are generally preferable for viewing, storage, and printing when going mobile.
How do you make PDF versions of Harbor Reports?
Windows users can create their own PDFs using various free or relatively inexpensive applications available on the web. Once installed on your computer, these programs will enable you to "print to PDF" (send the harbor report to a PDF file instead of to a printer).  Two free PDF converters that are frequently used are Doro PDF Writer (http://download.cnet.com/Doro-PDF-Writer/3000-18497_4-10578740.html) and CutePDF (www.cutepdf.com).  When downloading CutePDF writer DO NOT download the PDF editor.  When downloading any free software, always uncheck the boxes to download other software.
In the harbor-report section, decide what you want in the PDF and open that page—an entire lake, a sub-section within a lake, or a single harbor report.
Click on "Printer-Friendly Version" (at the top). For an entire lake, this may take several minutes.
Then click on "File->Print"
Then choosethe PDF application you've installed instead of your printer, in the print-dialogue window. For an entire lake, this may take several minutes.
Give it a file name and choose a folder to save it in.
You will be able to view these PDF files on your computer, print them, burn them to a cd-rom or flash drive, etc.
Macintosh users (and most Linux users) will not need to install any software; PDF creation functionality is built into the "print" command by default. Choose the "printer-friendly version." Then click on "PDF," give a name to the file, and choose a folder for the file.
For use on the iPad, the Log-Book Committee recommends using iBooks or an app called "Good Reader." For Good Reader, on your home computer, zip all your harbor-report PDFs into a single zip file and transfer it to your iPad, using iTunes. Then un-zip the harbor reports in Good Reader on your iPad. For iBooks, use iTunes to drag the PDFs into the Books library; then sync your iPad. More details on transferring PDFs to the iPad are here...
For the more-technically inclined, the Log-Book Committee has developed a way to get a PDF version of the harbor reports including an active table of contents using only a Browser and Microsoft Word 2007 or later. We have not been able to make this work on Apple computers. Go here for instructions on creating an active-table-of-contents PDF.
Windows users can also use the Microsoft XPS Document maker, which is Microsoft's PDF-quasi-clone. Just choose the "printer-friendly version" of a harbor report; then choose "Microsoft XPS Document" as the printer and click "print." Give the document a name and choose a place to store it on your computer. You will be able to view the harbor report on any Windows machine that has the XPS Document Viewer installed (generally most  late Vista versions and all Windows 7 and later versions).
The GLCC will provide limited PDF versions of Harbor Reports to members in the near future. See the web-site's GLCC store.
How can I search for information on the web site?
There is a search text box at the top right of the front page. Type in the term or name you want and click on "search." Results will be displayed with "hits"  from the harbor reports first, followed by member information.
Note that only registered members can search for user information.
Older Front-Page stories seem to be shortened. How do I read the whole story, comment on it, or print it.
Click on the headline of the Front-Page story, and the entire story (including a comment box and print command) will open in a new window.
On the Front Page, only the top story is displayed in its entirety. To comment on or print it, click on its headline.
How do I post news or other information of interest to the GLCC membership?
Visit the GLCC discussion forums. Use the "Post new forum topic" at the top of the forum list.
How do I post a story to the Front Page?
Post a new forum topic on the GLCC discussion forums. GLCC site editors regularly review all postings and will "promote" suitable topics to the Front Page. Feel free to alert site editors to postings that you feel should be "promoted."
Note that it is advisable NOT to include your e-mail address in the discussion forums, since these forums are viewable by the public (not limited to members). If you want to be contacted by e-mail—for example in a Member-to-Member ad—refer to your "user name" which will appear at the top of any post you make. Anyone clicking on the user name will be taken to your "contact" page and will be able to e-mail you through the web site without seeing your e-mail address. If you choose to respond to them, then they will have your e-mail address, but otherwise it will be invisible to the public.
How do I share the photos from my recent cruise with other members?
Visit the GLCC photo gallery.
Decide which section of the gallery (e.g., Member boats, Members and Friends, Lake Superior, etc.) is the best place for your photos. You'll have to select which section to post your photos to later on.
Find the Share your photos link from the right-hand menu (listed underneath "Photo Gallery"). This link will allow you to load one photo to the gallery. Be certain to include a good caption and text with the photo.
For multiple photos, revisit the the Share your photos link, once for each photo.
How can I communicate with other GLCC members via this site?
Members can use the Members List to find other members.
Click on their site username or real name. That will take you to their user-account page.
Find the contact tab in the horizontal link list on their account page.*  You can use that form to send a message.
That message will go the member's real email address. They can then email you a reply.
*Note: If a contact link is not visible, a member has elected to disable their contact form. You will need to find an alternative means of contacting them.
How can I subscribe to updates to GLCC website content?
You can elect to be notified of any additions/changes to the GLCC website. There are three methods for subscribing:
Subscriptions. On pages which let you post comments (for example, the harbor reports or the discussion forums), look for the "Subscribe post" link at the top of the page. This site feature will allow you to receive an immediate notice when new comments are posted to the specific item you are subscribing to. For example, if you have a favorite anchorage, you can "subscribe" to that harbor report, and you'll receive notification whenever any changes are made to that harbor.
RSS. If you are familar with RSS technology (e.g., RSS news aggregators), some areas of the site--such as the home page and individual discussion forums (e.g., Wilderness Cruising)--will have RSS subscription available. Look for the RSS icon in the right sidebar if this manner of subscription is available.
Sitewide content notification. Visit your "my account" page. First select the "My notification settings" tab from the horizontal menu. This site feature will allow you be notified (it's an "on/off" switch).
Then on "my account" page, click on "subscriptions." There are several tabs to click on. "Threads" lists items that you are subscribed to. By default, if you post anything, you are automatically "subscribed" to it and will be notified if anyone replies or adds to it. If you have gone to any item on the web page and  clicked on the "subscribe" button, that item will be added to your active threads.
In addition to "threads," there is a "categories" tab. Click on that and you'll see a long list of pages on the web site that you can subscribe to.
In addition to "categories," you can also click on "content types." With "Harbor Reports" clicked, for example, you will receive a notification of any changes/additions to any of the harbor reports. Caution: subscribing to a content type may generate more e-mails that you are willing to deal with!
 You will receive an email notice when new content is available.
How can I add a non-GLCC Event to the Calendar?
We want to encourage those with editor privileges (Port Captains and other content providers) to add boating events in their area that may be of interest to club members.  Following are the instructions:
Must have editor privilege.  Port Captains have this privilege.
Click on Create Site Content.
Enter title of the event.
Check that it is external to GLCC.
Enter date and time.  If just one day there is no need to show an end date.
Normally there would be a link to an external web site or there could be a flyer.  See next step for uploading a flyer.  If not skip to the following step.
If there is a flyer to be attached, under file attachments, browse to the file on your PC and upload it.  Uncheck the display box.  Save your entry in order to have access to the file.
Enter a brief description in the body.  Include link to web site for further explanation.   If there is a flyer, include link to the file just uploaded.  In either case, set target to New Window.
One can preview the entry or just save it.
Confirm any links created work.
 Re-edit to correct any thing wrong.
I haven't found the help I need.
You can send a message to the GLCC website administrator for additional assistance.