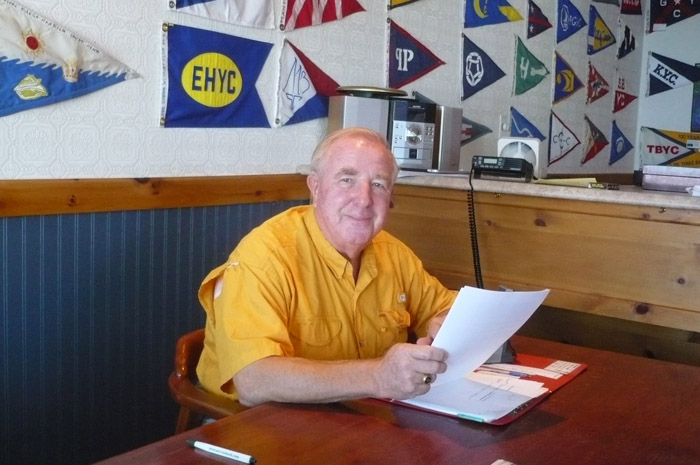 GLCC Honorary Member and Founder/Moderator of the North Channel's Little Current Cruiser's Net, Roy Eaton, shared the following update on initiatives to help address the critical low water issues for North Channel Ports this coming cruising season. 
As reported by Roy, the problem is the severe loss of water depth in a number of North Channel marinas. All affected marinas have made plans for dredging, etc., and have submitted proposals and requests to the provincial and federal governments. Each municipality is a member of the Georgian Bay Mayors and Reeves group pressuring both the Provincial and Federal governments for action.
This past week, the Member of Parliament for Bruce-Grey-Owen Sound met with government officials to impress upon them the urgency of the situation, and to talk about shoreline and low water issues in general. In addition to asking that dredging be done expeditiously, requests to streamline the permitting process have also been made given the criticality of the situation in North Channel harbors.
The Directors of the North Channel Marine Tourism organization conducted a survey by its membership, inquiring as to the impact of low water levels in Lake Huron and made the following motion at their last meeting:
"Whereas the survey indicates that the vast majority of its members will be negatively impacted as a result of low water levels, to the point of requiring "maintenance dredging", and or alterations to access their launch ramps, berths and service docks and operating at a reduced capacity; and
"Whereas the North Channel Marine Tourism Council has recently completed a "Marketing, Communications and Engagement Plan" promoting the North Channel as a destination point, and the "Best Freshwater Boating in the World";
"Further if the low water levels continue to drop, it will have a major impact on the marine industry in the entire North Channel resulting in negative effects on the economy, and negatively affecting many affiliated businesses;
"Now Therefore, we urge the Provincial and Federal Government to assist in expediting, [reducing the red tape] applications for emergency maintenance dredging, and to earmark funding assistance to ease the financial burden required to deal with the necessary alterations that many of our marinas will have to endure in order to operate with these drastic low water levels;
"Further that funding be retroactive to those marina operators that have taken steps and measures to proceed ahead of any formal funding announcement in light of the short "window of approval" for dredging operations;
"Further that this motion be forwarded to the Minister of Finance, Minister of Natural Resources, Ontario Ministry of Natural Resources, Federal Department of Environment, Ontario Ministry of Environment, Department of Fisheries and Oceans, Minister responsible for FedNor, Minister responsible for Northern Ontario Heritage Fund, Boating Ontario, Georgian Bay Association, Carol Hughes, MP, Brian Hayes, MP, Mike Mantha MPP, David Orazietti, MPP, members of the North Channel Marine Tourism Council and East Algoma Chiefs, Mayors and Reeves Council.
"Motion Carried"
Roy had originally been schedule to present a GLCCSchool Webinar on "North Channel Ports" on March 26, however, with the present state of uncertainty, that webinar is being deferred until more information is obtained. The best advice Roy is receiving is that this may not occur until late April. Once more information is available we hope to re-schedule Roy's webinar in the May timeframe with the latest harbor information. Hopefully at that time we'll have up-to-date, positive news to report.