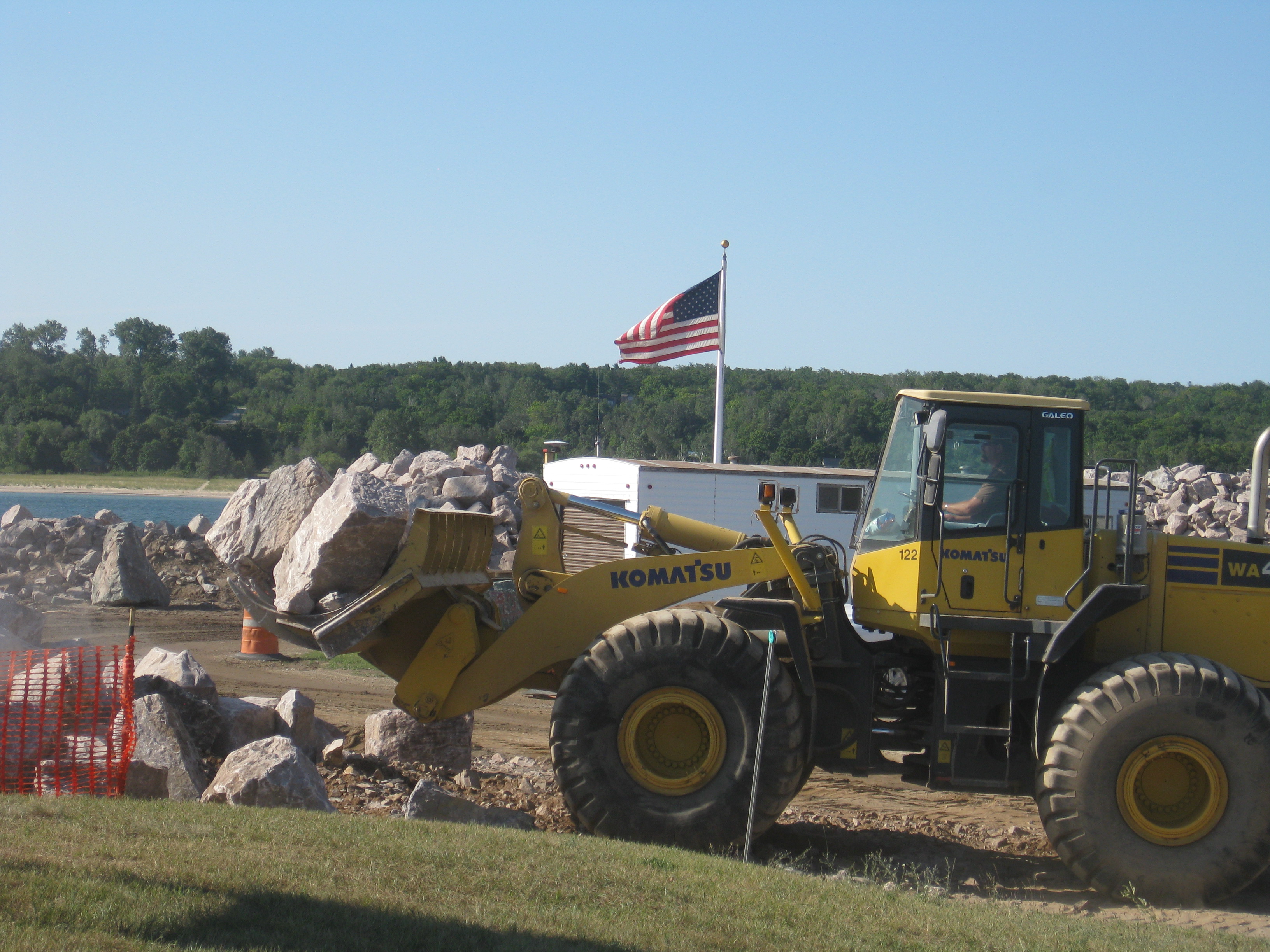 The funding for construction of new breakwater at Grand Marais, Michigan.
(Grand Marais, Michigan) July [11], 2012 - The Great Lakes Foundation today presented a check for $10,000 to Burt Township Supervisor Jack Hubbard. This grant by the Foundation represents partial funding for the construction of a new breakwater for the Grand Marais Harbor of Refuge. This much needed project has been in the planning and fundraising stages for over five years and construction will be completed this fall.
With a new breakwater, Grand Marais will once again be a key component of the system of harbors of refuge system in Michigan, as the only viable harbor in an 80 mile stretch of the south coast of Lake Superior.
In presenting the check on behalf of the Great Lakes Foundation, spokesperson Marilyn Kinsey said: "This grant dovetails with the objectives of the Great Lakes Foundation, by assisting in the rehabilitation of a critical asset for boater safety on Lake Superior."
The Great Lakes Foundation is dedicated to preserving the richness of wilderness cruising areas of the Great Lakes and to fostering the art and science of cruising. The Foundation is organized exclusively for charitable, educational and scientific purposes within the meaning of Section 501(c)(3) of the United States Internal Revenue Code. The Foundation has distributed more than $150,000 in grants since 1993 to activities that meet the Foundation's Grant Policy. 
The Foundation's purposes include assembling and publishing detailed information about harbors, anchorages and wilderness cruising areas in the Great Lakes; promoting marine safety through education, including publications and services; protecting and preserving wilderness areas by providing information that will enhance the appreciation of the Great Lakes; encouraging the study and preservation of the marine environment; and supplying encouragement, information and, where appropriate, financial assistance to persons and organizations who support the purposes of the Foundation.