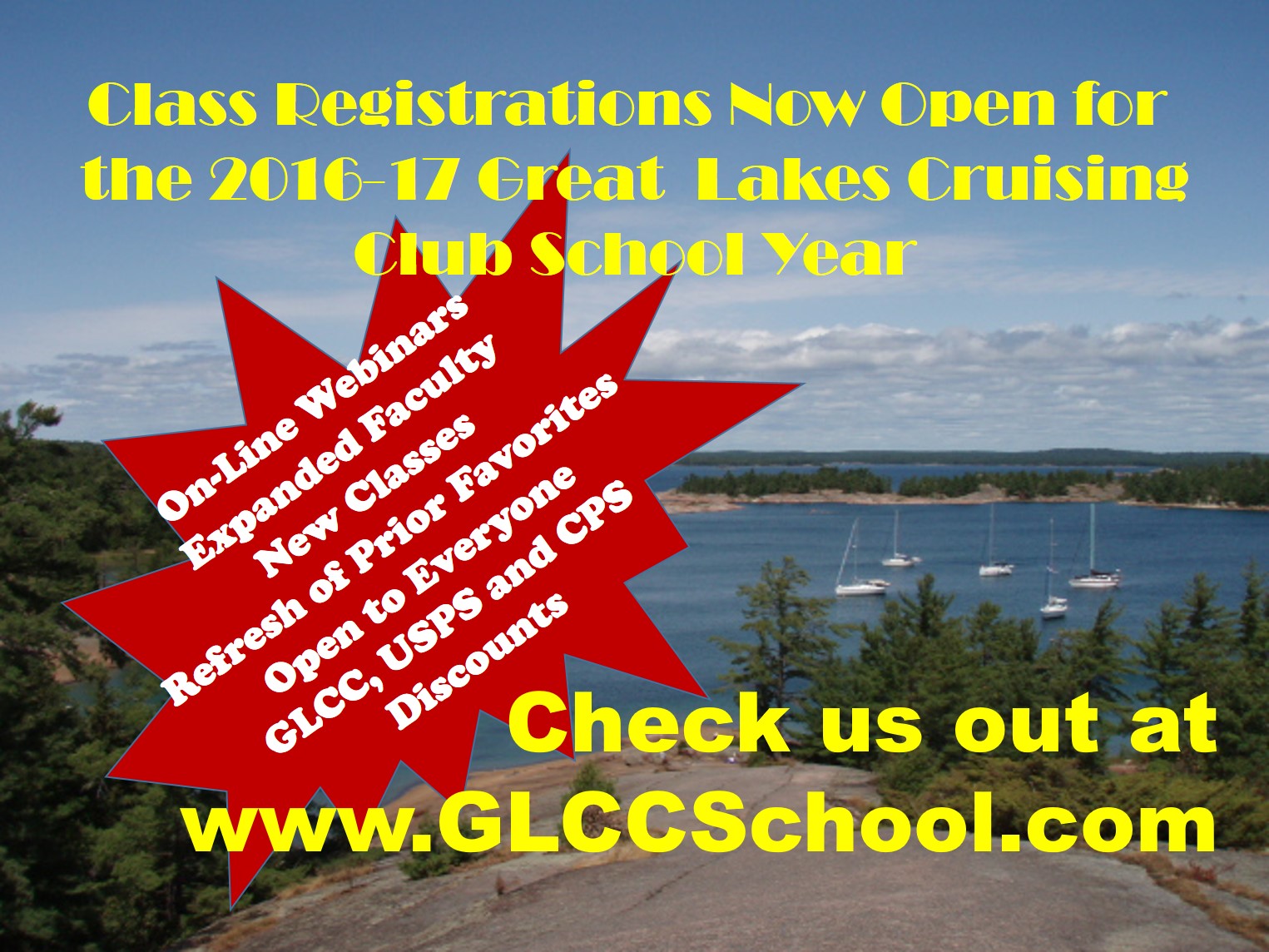 Check Out The Latest GLCCSchool Cruising Webinar Offerings!
Our GLCCSchool coordination team has been busy lining up a full program of live and recorded webinars for the school's seventh year of operation. Several October through December live webinars are already open for registration, with roughly thirty additional live classes still to come in the first half of 2017!
Particularly watch for numerous "new-this-year" webinars taught by both familiar GLCCSchool faculty members as well as distinguished new-to-GLCCSchool instructors. Among some of our new classes are a new Lake Huron webinar and a new webinar on selling and buying boats (both available for registration now), a new 2017 webinar on cruising Lake Ontario's Bay of Quinte and Thousand Islands area, a new webinar on inflatable boat maintenance, new webinars on gasoline engine maintenance, on cruising with kids and grandkids, ... and more.
In addition, several of our most popular past webinars have been substantially revised, often with new instructors -- for example, the foundation webinar "Introduction to Great Lakes Cruising" being offered in late October has been significantly revised by its new instructor.
Webinar packages have become extremely popular with GLCCSchool students. Look forward to more specially-priced multi-webinar packages this year, such as the new, short-handed cruising safety series being offered jointly in 2017 with the Cruising Club of America and US Sailing.
And don't forget GLCCSchool's recorded webinar offerings. For example, make sure to check out the Chris Parker Marine Weather Basics and Mastering GRIBs webinars offered both individually and as a package by the most respected and relied-upon offshore weather router in the business, Chris Parker. Also check out the "Successfully Living and Working Together on a Boat" webinar by accomplished ocean cruising couple and published cruising authors Virginia and Robert Gleser. These and other recordings are available for immediate registration, and can be viewed at any time & as many times as you wish (see the Recordings section of the GLCCSchool web site).
So, please regularly check www.GLCCSchool.com for updated information on upcoming live and available recorded classes. Or better yet, make sure to enroll with GLCCSchool (it's free) to be alerted to new classes as they're opened for registration. We hope to see you in class soon with our sharply expanded 2016-17 curriculum!