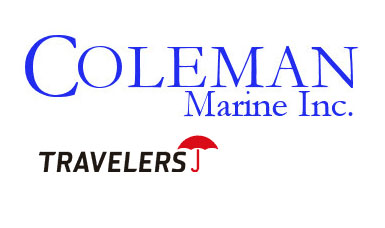 Great News! Long a dream of Past Commodore Jim Richlak, the Traveler's Insurance Company, through the Coleman Marine Insurance Brokerage, has just completed an initial program agreement for the members of the GLCC.
Having successfully established a nationwide manufacturer's program for Bertram, The Luhrs Group, Mirage and others, Coleman Marine feels the quality of the Travelers Yacht product, coupled with the service the agency has proven it can deliver, will be very beneficial to the GLCC membership.
The Travelers GLCC program recognizes the Club's focus on cruising activity married to the knowledge of navigation of these waters. The GLCC association discount is 5% of the physical damage premium.
Travelers GLCC program will offer GLCC membership a "Jurisdictional Endorsement," which, when utilized, enables the Travelers Yacht program to be offered for the first time to Canadian residents who have their vessel located at a primary summer mooring location in U.S. waters. Other carriers are available to provide coverage to Canadian Member owners who remain in Canadian waters for the most part.
Additionally, GLCC membership will receive a special offering of a "Disappearing Deductible" feature pertaining to Hull and machinery coverage as well as a 3 year loss free renewal discount of 10%.
Travelers Yacht Policy features include:
Agreed Value for Total Loss
Marina as additional insured
Replacement Cost Coverage for partial loss
Wreck Removal Coverage feature
Salvage Coverage feature
Mechanical Breakdown Coverage endorsement
Limited policy exclusions
Accidental Fuel Spill Coverage
Personal Property Coverage,
Towing Coverage,
Medical Payment Coverage,
Uninsured Boater Coverage
Newly Acquired Yacht and Dinghy Coverage
Non-Owned Yacht or Dinghy Coverage
Special Trip Coverage
Endorsements for extended navigation during the winter (including Gulf of Mexico)
Coupled with a flexible attitude to vessel surveys this program offers great, dependable, coverage with a name brand carrier that has built in rate reductions, where even if the initial premium is not the lowest cost, continued coverage brings predictable rate reductions.
- - - - - - - - - - - - - - - - - - - - - - - - - - - - - - - -
The insurance company and agent will be doing the marketing directly for any members interested. Web site: http://www.colemanmarine.org
Note that the GLCC office will have no responsibility or administrative involvement other than referral, and the Club will not be giving out sensitive member contact data.
Marketing will be done through the GLCC web site!
Check back for information!