Thinking of chartering either in the Great Lakes or elsewhere? Like to receive a discount rate on your charter vacations? Now you can with a special GLCC Members-Only Discount Program sponsored by Superior Charters.
For charters out of Bayfield, Wisconsin, near Lake Superior's Apostle Islands, you will receive 10% early and late season charter discounts and a 5% July charter discount. You will also receive special promotional pricing on On-The-Water-Training programs.
To access your special GLCC Member Discount code when booking with Superior charters click Superior-Charters-Discount-Code. To directly access the Superior Charters Web Site click Superior Charters. To inquire about charters or to book your next charter you can contact them directly at toll free 877-391-4562
Caribbean or Mediterranean Charters Anyone?
For those interested in sailing in the Caribbean or even the Mediterranean, Superior Charters can book your trip with any of the major charter companies (Moorings, Footloose, Sunsail, etc.). If you book through Superior Charters, you will receive 5% of the cost of the boat back as a cash rebate after completion of your trip. Do the research on your own and get your best quote, then call Superior Charters, or have them research the trip for you.
 
Interested in Sailing the Apostle Islands on Lake Superior?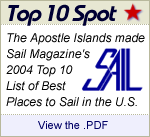 Have a boat on Lake Michigan, Lake Erie or another Great Lake but want to cruise the Apostle Islands? Let Superior Charters make it simple for you. Charter a boat from the Superior Charter's fleet and receive 5% off during the Prime Season (July-August) or 10% off during the Late Season, September. 
 
Want to Learn-to-Sail in the Apostle Islands?
Do you have family that would like to sail too? Or crew that want to step up and be skipper? Enjoy a $200 discount on Superior Charter's hands-on practical sailing certification courses. Take the two day, Learn-to-Sail course, normally $795 for $595. This course is for those who know how to sail, but have never been the responsible skipper. Or take the three day, Learn-to-Sail with Overnight course, normally $1195 for $995. This course is intended for those with limited cruising boat experience and includes an overnight at anchor with a U.S. Coast Guard licensed Captain.