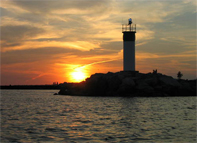 Spring is here, and the warmth and fun of summer boating is right around the corner! Just in time to think about and plan this year's boating season! You'll definitely want to take the time and explore what the rest of Lake Erie has to offer if you're considering attending the 2014 Rendezvous in Leamington, Ontario. To that end we invite you to watch Come Discover Leamington and the Rest of Lake Erie, an enjoyable five minute cruise of Leamington and 31 other wonderful Lake Erie ports. (This link will prompt you to open/download the Powerpoint file to view on your device. Further viewing directions below.) And while you're at it take time to check out The Great Lakes Cruising Club's latest Harbor Report, Cruising the Lake Erie Islands Area.
For Windows users who need a PowerPoint view, get a free one from Microsoft at http://www.microsoft.com/en-us/download/details.aspx?id=6
For Apple device users, we are still working on how to view this presentation properly. Would appreciate any help if you are able to view it with the music.
To read more about the 2014 GLCC Rendezvous, click here.
Click 
HERE
 for printable Rendezvous registration form.
Click HERE for on-line 
Rendezvous 
registration form.