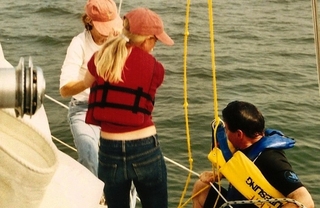 In partnership with the Cruising Club of America, GLCCSchool is pleased to present a new two-part class on cruising safety. The two webinars will be presented on Tuesday and Thursday, April 4 and 6, at 8:00 pm Eastern/7:00 pm Central. Drawing from US Sailing's Safety at Sea and Safety for Cruising Couples curriculums, co-instructors Sheila McCurdy and Ron Trossbach developed this newly-packaged and extended class specifically with inland lakes sail and power cruisers in mind ... especially couples, partners and other crews who typically do much of their boating short-handed. And because the subject is so critical to safe cruising, the GLCC and CCA are offering this two-part class at the low pre-discounted package price of only $10.00! Don't miss Safety on the Inland Seas. Click here for more information and to register for class.
If you've ever heard of the US Sailing's "Safety at Sea" classes or the CCA's "Safety for Cruising Couples" class, Sheila and Ron are two of the drivers behind those initiatives. Each has roughly 100,000 or more safe offshore sea miles behind them under both power and sail, and each brings their extensive experiences to bear with this class.  By the way, they're not related and don't cruise together, so that means you'll be hearing from two individuals who in total have amassed over 200,000 safe offshore miles!
Sheila and Ron have expanded the material they taught last year into a two-session format, with Ron on Tuesday April 4th exploring safety equipment and boat preparations, and Sheila on Thursday April 6th focusing on crew preparations, safety procedures, and related considerations.
You can register to attend all this ... including both sessions ... for only $10.00! Don't miss this tremendous opportunity to refresh your safe boating skills with these two cruising safety experts.  And do share this information with your crew and other boating friends.