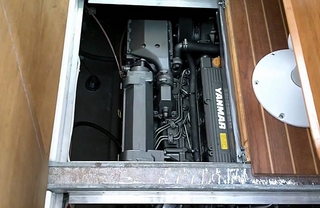 On Wednesday, January 20, at 8 PM Eastern/7 PM Central, Jim Zima, owner of Great Lakes Diesel in Huron, Ohio, returns to the GLCC School line-up with an updated version of his popular webinar, Marine Diesel Maintenance 101. This is a must webinar for those who like to stick their nose in the engine room. Click here for more information and to register for class.
Jim believes that by instructing boat owners in basic maintenance, they learn to do daily engine checks and become confident in their ability to perform their own preventative maintenance services. Knowledge in these areas will keep your boat in good running order and will likely avoid costly repairs.
Join us as Jim discusses the basic of diesel engine maintenance: fuel systems, fuel filters and bleeding techniques, engine and transmission oil and filter maintenance, air filter maintenance, electrical and cooling system maintenance, impeller replacement and more. Listen as Jim provides pointers on service intervals and tips to help simplify your own maintenance efforts.  On top of all that Jim will help you to understand some of the more complex engine systems, like shaft alignment and valve adjustment, and when it is time to bring in a trained technician to assist.