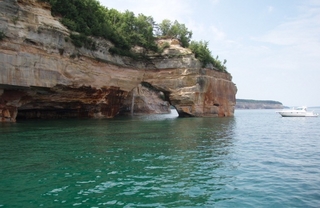 Lake Superior's South Shore is often a first time Lake Superior cruiser's introduction to the lake's expansive and varied cruising areas. On Thursday, January 21, at 8 PM Eastern/7 PM Central, join GLCC's Immediate Past Commodore Niels Jensen in exploring one of his favorite cruising areas in his webinar, Cruising Lake Superior's South Shore. Click here for more information and to register for class.
This webinar will explore the shores of Lake Superior from the Apostle Islands to Sault St. Marie. While it is primarily intended as a guide for those who wish to cruise this 300-mile sector of the lake for the first time, it also offers helpful information for more experienced Lake Superior boaters. It includes cruising directions and harbor details for this unusual and varied coastline with an emphasis is on how wonderful it is to explore. Cruising the South Shore is always an adventure.
Note that this webinar is one of five webinars in the "Cruising Lake Superior" series. For those wishing to attend all five webinars, check the specially priced Lake Superior series PK00901-a to purchase and register for all five webinars at the price of four.