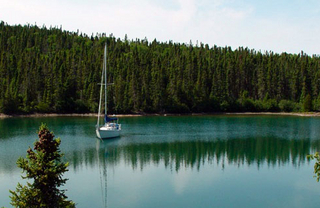 Many Lake Superior cruisers rate this area the "best of the best." Wilderness, solitude, protected anchorages, hiking trails ... the east and north shore have it all! On Tuesday, January 12, at 8 pm Eastern/7 pm Central, join experienced cruiser Fred Bagley as he guides us through this beautiful cruising ground in his webinar, Cruising Lake Superior's Canadian Shores. Click here to learn more and to register for class.
Lake Superior. Too much fog and too damn cold? Sometimes.  But you will also experience absolute solitude, abundant wildlife, gorgeous waterfalls and the most stunning scenery on the Great Lakes, if not all of North America.  Always. And yes, you can swim there!
This course will introduce the cruiser to the Canadian shore of the greatest lake of them all, from the Soo almost to Thunder Bay. What to bring, what to expect, where to resupply, where to drop the hook, where to go fast and where to poke. If you have an interest in cruising one of the most beautiful wilderness crusing grounds on the Great Lakes, don't miss this webinar!
Note that this webinar is one of five webinars in the "Cruising Lake Superior" series. For those wishing to attend all five webinars, check the specially priced Lake Superior series PK00901-a to purchase and register for all five webinars at the price of four.