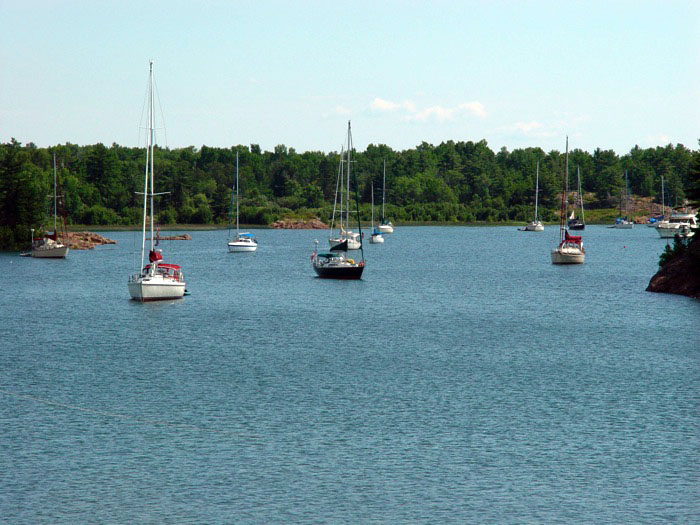 The Great Lakes Cruising Club will hold the 2018 Wilderness Rally at Keyhole Harbor, harbor report number (GB-50.5). The rally will return to the same location as the 2008 and 2011 Wilderness Rally's. The rally arrival day will be July 10 and departure day is July 14, 2018.
     The Great Lakes Cruising Club 2018 Rendezvous is being held in Killarney, harbor report (GB-52) just seven miles west of the Wilderness Rally site. GLCC members will be able to attend the Wilderness Rally and still arrive early for the 2018 Rendezvous in Killarney.
     Holding the Wilderness Rally at Keyhole Harbor offers an ideal rest stop, as you travel toward Killarney and beyond.
     Our theme for this year's rally is Good Friends and activities are planned to help everyone get to know one another as well as visit with old cruising friends.
Click 
HERE
 to register online / Click 
HERE 
for a printable registration form  (No refunds after 6/22/18)
We are planning "on-shore" sessions under the weather fly, with these titles:
Boater to Boater harbor report. Bring your report of the harbors and anchorages you stayed in while heading to the Wilderness Rally. Share your observations with the group. Lou Bruska, GLCC Log Book Editor will moderate this live harbor report update. Bring your notepad and pencil.
Cruising the Georgian Bay. Bruce and Ann Arthur, longtime Georgian Bay sailors, will present a cruising guide for all attendees.
Best book you've read. Book lovers will enjoy this discussion led by Chris and Diane Hanson. Share your "best book" review with the group.
"Good Eats" while cruising. Last year's food discussion was just the beginning. Melissa Spillenkothen will again lead the discussion. Tell us of your favorite cruising meal. Notepaper is mandatory.
This Year's Craft: "A stitch in time" is something for your boat. Clare Walker and Port Captain Sandi Matley will help crafters complete this year's project.
Hot-water shower! "Really!" Hot-water showering, whenever you want, is the cruiser's dream. Port Captain Bill Matley, Port Captain Jim Williams and Tom Trimmer will present a couple of ideas. Bring your thinking caps as we problem-solve this elusive cruising luxury.
Morning coffee hour. Shore Starbucks, for those who need to have that morning "cup-a-joe" hosted by the first committee member who volunteers for the duty. For me, early morning is the best sleeping time!
Bread maker "What's that I smell?" Visit any resale shop and you're bound to find one of these bread machines for next to nothing. We will fire up our bread maker for a little of heaven on earth as we make a fresh loaf of bread and sample it at the happy hour.
Experienced books exchanged. Bring your experienced books to trade in for a new read. Sue Durchslag will organize this Wilderness Rally favorite.
Roving cocktail hour. Will return after a three-year hiatus. Volunteer host boats will invite two or three couples to their boats. Everyone brings a dish to pass and BYO drink. This is a social gathering, a real "get to know you" event.
Wilderness traditions. Like the first day, July 11, pancake breakfast and the on-shore dinner will be included in your paid registration. This year's on-shore dinner will be Bud and Shirley Zalon, Open Fire Roasted Hot Dogs. Ketchup is permissible (by special permission). On-shore happy hours, July 10 and July 12 everyone brings an appetizer dish to share and BYOB. The always delicious potluck dinner on July 13, rounds out the food events.
Click 
HERE
 to register online / Click 
HERE 
for a printable registration form  (No refunds after 6/22/18)
Note: On-shore happy hours will be held July 10th and July 12th where everyone brings an appetizer dish to share and BYOB. Potluck dinner on July 13.
All scheduled activities subject to change or cancellation, "weather and wind can vary considerably due to shoreline effects."
     Dinghy travel and an adventure bag lunch is being considered, but is weather dependent. More information on that event will be shared at a later date.
     Cost is $38 USD per boat and includes a Wilderness Burgee. Register online at the GLCC website. Make your plans now, join us at Keyhole Harbor July 10–14 for the Wilderness Rally. See you there.
Port Captains Bill and Sandi Matley, Co-Chairs Wilderness Rally
For more information e-mail Bill Matley at wm1252@comcast.net
Event date:
Tuesday, July 10, 2018 - 12:00
to
Saturday, July 14, 2018 - 12:00