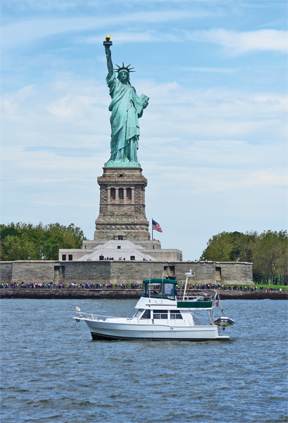 The 32nd Annual Lake Superior Mid-Winter Dinner will return to the Twin Cities venue of Radisson Roseville Hotel on Saturday, January 13, 2018. The evening includes an exciting account of Loop Life on Moon Shadow, by fellow GLCC Port Captains Colleen and Dave Wray.
     Colleen and Dave will speak on their experience living and cruising aboard their Mainship trawler, Moon Shadow on their 6000-mile Great Loop adventure. The Great Loop is a system of waterways that encompass the eastern portion of the United States and parts of Canada. They left in the summer of 2016 and returned in the summer of 2017, with many stories to tell.
     Plan to treat yourself to this delightful and memorable mid-winter break! The Wrays' presentation will begin immediately after the dinner. At its conclusion, there will be a question-and-answer session, and closing comments and activities. The cash bar will remain open for a while longer to provide extra time for you to visit with your GLCC friends.
Click HERE to register online
Click HERE for a printable registration form
(No refunds after 12/21/17)
Schedule of Events:
1530 Port Captains' Meeting
1700 Social Hour
1800 Introduction of Members & Guests,
Commodore's Report & Business Meeting
1900 Holiday Buffet Dinner
Cash Bar / US credit cards accepted (Presentation Immediately Follows)
Lodging:
The Radisson Roseville Hotel is centrally located in the Twin Cities (Phone: 651-636-4567), which is about a quarter mile north of the I-35W-Hwy 36 interchange. For details, please visit the
Radisson Roseville Hotel 
website. It's a full-service hotel with pool, sauna, fitness room, complimentary WiFi, free parking, and many other amenities. We are happy to announce your committee has obtained a special low-room rate of $99 USD/night for your convenience. Please tell the hotel you are with the GLCC Group when making your reservations. The room block will be held until 12/23/17.
Event date:
Saturday, January 13, 2018 - 12:00