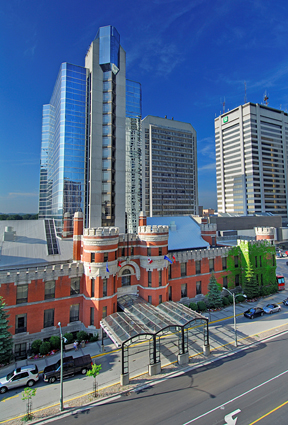 2018 Annual General Membership Meeting
at the Delta Armouries Hotel
October 26-28 in London, Ont. 
     Please join us for the Great Lakes Cruising Club and the Great Lakes Foundation 2018 Annual Membership Meetings this October. The venues for this years AGM Meeting are exceptional as they have an historical presence in the city of London and a reputation of exceeding expectations.
     On Friday, the Delta London Armouries Hotel will welcome you with its unique architecture and appreciation of history and modern luxury. Friday's dinner will be a Deluxe Buffet at the Delta. The Delta Armouries is ideally located in the heart of downtown London near shopping and several ethnically diverse restaurants.
     On Saturday there is an optional 2-hour Labatt Brewery Tour that includes lunch. The
Labatt Brewery
has long been a landmark in the city of London since it was founded in 1847 by John Kinder Labatt. This tour is a highly rated destination for all visitors to the city of London. The cost of the tour and lunch is $24 USD/person which includes a full guided tour of the brewery, 2 beers in the Sampling Room, a discount coupon for the Labatt Store as well as lunch and dessert. The tour will start in the John Kinder Labatt Room at 1230, 150 Simcoe St., London. Once the tour of the brewery is completed we will proceed to the Sampling Room to enjoy an assortment of Gourmet Wraps and a choice of Labatt beers or a non-alcoholic beverage such as coolers, pop/soda, apple cider or water. For dessert you will be treated to the famous London's Ice Cream for dessert. Tour lecture and questions continue in the Sampling Room. Following lunch and the sampling, we will go outside to see the 1919 Keg Truck and the 1947 Streamliner truck. This guided tour and sampling is rare opportunity not to be missed!
Please note:
As there are a number of stairs involved in the tour, the Labatt Brewery will be happy to make accommodations and arrange a  special tour for those with mobility issues..
     Saturday evening, the GLCC & GLF General Membership Meetings, followed by a social hour and dinner will be held at the prestigious 
London Club
, one of London's premier private dining clubs and itself a historic London landmark founded in 1880. The Club has maintained first class standards for food, outstanding service and timeless charm. The keynote speaker for the evening will be Sargent Tim Diebel of the Royal Canadian Mounted Police. Sargent Diebel, Windsor-Detroit Shiprider Division and Integrated Maritime Law Enforcement Operations will speak on the RCMP'S responsibilities on the Great Lakes and the ways in which the GLCC membership may be of assistance during interactions with Law Enforcement on the water. Sargent Diebel's talk is sure to provoke an interesting discussion on a topic near and dear to our hearts. Additionally, Sargent Diebel will discuss the impact of the new marijuana laws in Canada when crossing the border.
     We're looking forward to seeing you all in London!
Click 
HERE
 to register online / Click 
HERE 
for a printable registration form (No refunds after 10/19/18) 
Agenda
Friday, October 26
1400-1600

Registration
Delta London Armouries Hotel's Lobby
325 Dundas St., London, Ont. N6B 1T9

 
— All GLCC Friday activities at the Delta Hotel —
1500-1700
Planning Committee Meeting
(Officer's Club room)
1700-1800
 Port Captains' Meeting
(Officer's Club room)
1800-1900
Social Hour
(Gunnery Ballroom / CAD Cash ONLY Bar / blazers with tie; dressy casual attire)
1900-2100
Delta's Buffet Dinner
(Gunnery Ballroom / blazers with tie; dressy casual attire)
Saturday, October 27
0700-0830
Breakfast on your own
(Delta has Buffet for $18 CAN or an à la carte menu)
0830-1200
GLCC & GLF Board Meetings
(Officer's Club room / blazers (ties optional) / BYOC / water will be available)
1230–1500
Optional Labatt Brewery tour with lunch included
 
— GLCC Saturday evening activities at the London Club —
1700-1800
GLCC & GLF Annual General Membership Meetings
(London Room - uniform with bow tie; after five attire)
1800-1900
Social Hour
(Grand Ballroom / served hors d'oeuvres / CAD Cash Bar or any credit card except American Express / uniform with bow tie; after five attire for rest of evening)
1900-1915
Welcome & Introductions
1915-2030
Dinner
2030-2300
Introductions, Awards and Presentations with Keynote Speaker Sargent Tim Diebel of the Royal Canadian Mounted Police, from Windsor-Detroit Shiprider Division
 
Evening concludes with the Commodore hosting an afterglow party in his suite at the Delta Hotel
Sunday, October 28
| | |
| --- | --- |
| 1000-1100 | Individual Departure and Opportunity to Tour Local Attractions* |
| 1100-1400 | Delta Hotel "London's Best" Sunday Brunch Buffet |
Hotel information: Delta London Armouries, 325 Dundas St., London, ON N6B 1T9. Lodging reservations may be made via this link (best method) or by calling Marriott reservations at 844-254-5055 or Delta Armouries at 519-679-6111. Standard Guest Room w/2 Double beds is $145 CAD/night and Standard w/King is $160 CAD/night. Rooms will be held until 8 a.m. Wed., 9/26/18. Please mention GLCC to get this group rate.
Click 
HERE
 to register online / Click 
HERE 
for a printable registration form (No refunds after 10/19/18) 
Event date:
Friday, October 26, 2018 - 14:00
to
Sunday, October 28, 2018 - 14:00