GLCC's 2017 WILDERNESS RALLY
June 28 - July 1, 2017 at Harbor Island NC-2
     The Great Lakes Cruising Club cordially invites you to attend the 2017 Wilderness Rally at Harbor Island (NC-2). The rally will begin June 28 and end July 1, 2017. Departure day will be July 2, 2017. The late June and early July dates make the Wilderness Rally the perfect season kickoff event.
Click HERE to register online
Click HERE for a printable registration form
     All boats attending the GLCC Rendezvous in Sturgeon Bay, Wis. (M-72.5) and transiting from waters other than Lake Michigan will have to travel in close proximity to Harbor Island, site of the Wilderness Rally. This makes the 2017 Wilderness Rally the perfect "stopover" event on your passage west.
     Our theme for this year's rally is "Let's go Cruising," and activities are planned to help each attendee tackle some of the many facets of cruising life. We are planning "onshore" sessions on these topics.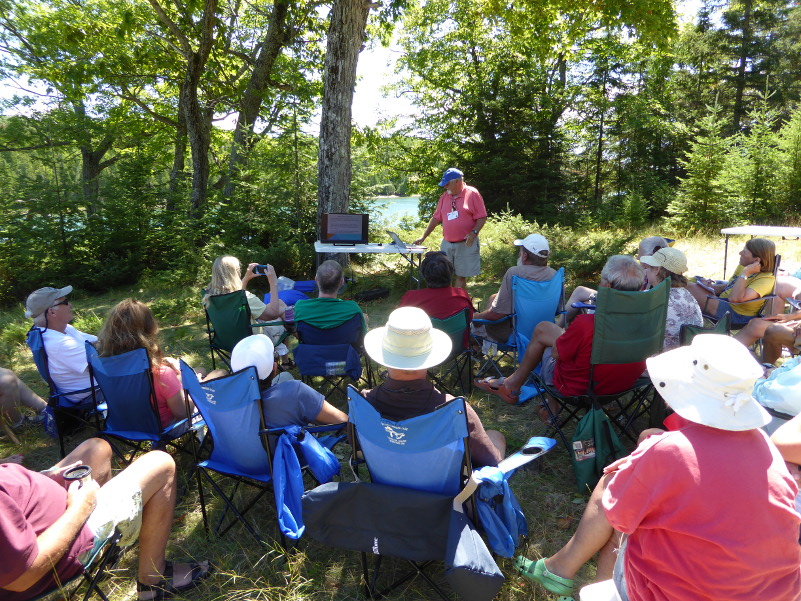 Rear Commodore Roger Hankle and Deputy Port Captain (Pelee Island) Joyce Rogers (Summer Wind) will demonstrate an outstanding "open source" navigation program called Open CPN. Open CPN uses free downloadable charts from NOAA. Your paid attendance will include the Open CPN program on a memory stick, and some of the charts you need to install Open CPN on your tablet or computer. Windows, Mac, and Linux versions included.
     Longtime cruiser Tom and Nancy Trimmer (Mistress) will be attending. Tom is the owner of Custom Marine Products (www.custommarineproducts.com), a company specializing in solar power generation equipment for the cruising sailor. Tom will have a presentation followed by a discussion session for every solar power question you have. Tom's handouts will be included on your memory stick, for all registered attendees.
     Longtime member and single handed-cruiser, Melissa Spillenkothen (Sonador), will share some of her famous "Healthy Salad" ideas. Food is an important part of our cruising life. This session will be full of cruising food creations to share. Please bring some of your favorite recipes, comfort food and desserts especially. We would like to create a Wilderness Cook Book for everyone. So please also bring the recipe for your potluck entry.
     Wilderness Committee Co-Chairs, Director Bill and Port Captain (Harbor Island) Sandi Matley (Spirit of Aloha) will display and present his Shorestop and Go; a device he manufactures, which allows cruisers to tie securely to shore. When it is time for departure you release the Shorestop and Go device and retrieve your shore lines — all from the safety of your vessel. 
     There will be a "take-it-with-you" craft activity and a book exchange, along with a "print-it-or-burn it" book/author review. So bring along your old paperback books to recycle and get new books to read this summer. We are actively pursuing several additional sessions, like a dinghy activity that will be weather dependent. 
     Wilderness traditions like the onshore pancake breakfast and the onshore dinner will be included in your paid registration. This year's onshore dinner will be "Walking Tacos." Two onshore happy hours and potluck dinner round out the food events.
 
2017 Wilderness Rally Itinerary
All scheduled activities subject to change or cancellation,
"weather and wind can vary considerably due to shoreline effects."
Wednesday - June 28th
1200-1700  Arrival, check-in, welcome by committee members who deliver packets to boaters (burgees will be given to members upon arrival)
1700  On shore, Happy Hour (Getting to Know You)
Thursday - June 29th
0900  Breakfast on shore
1300  Open CPN, Roger Hankle
1700  Dinner on shore, Walking Tacos
Friday - June 30th
0700-0900  On shore, morning coffee
0900  Book exchange and book review
1300  Solar Powering Your Boat by Tom Trimmer
1700  On shore happy hour
Saturday - July 1st
0700-0900  On shore, morning coffee
1100  ShoreStop-n-Go; Tying to Shore by Bill Matley
1200  Melissa Spillenkothen, Healthy Salads and food discussion
1500  Dinghy Adventure trip
1700  On shore, farewell pot luck dinner
Sunday - July 2nd
Departure day
Fair winds, calm seas!
---
A SPECIAL INVITATION TO ALL GLCC TRAILER BOAT MEMBERS
     Most of us, at one time or another in our boating experience, were owners of a trailerable boat. Often, GLCC events are in boating locations that are difficult for trailer boaters to attend. This summer's Wilderness Rally is "custom made" for trailer boaters.
---
     The date of the Wilderness Rally would fit nicely for those members who use the Canada Day or Independence Day holidays to lengthen their vacation time. American Independence Day will feature a fireworks display, viewable from Yacht Haven, a short dinghy trip away.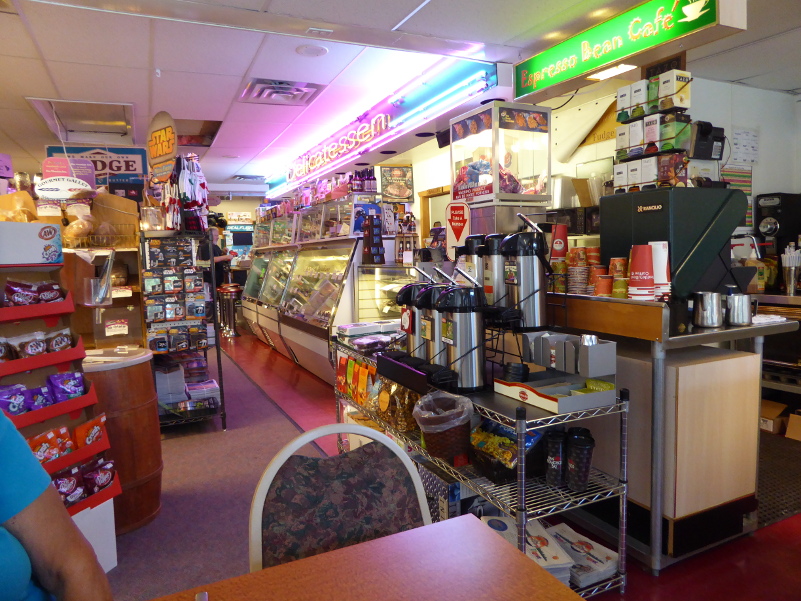 Eight miles west of Harbor Island is the town of Detour, Michigan. The Detour State Dock has an excellent boat ramp with car and trailer parking. Fuel, water and pump-out are on-site, with the Sune's IGA Grocery just a block away.
     Enhance your boating adventure by taking your boat across the Drummond Island Ferry and drive to Yacht Haven (NC-1). At Yacht Haven you can launch and park at their boat ramp, and they have all the supplies and services you could ever need. Sune's IGA Grocery, also on Drummond Island, is just a few miles away and Drummond Island has one of the best deli sandwich and craft beer grocery stores you can find anywhere — Gourmet Galley. Canadian trailer boaters can clear customs at Yacht Haven (no customs agents are at Detour).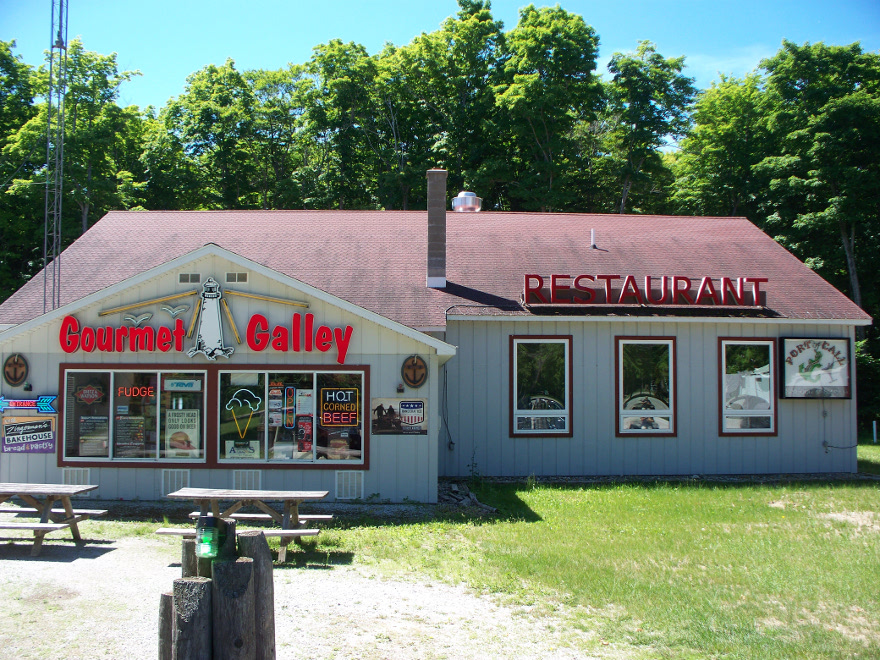 If you plan to join us, remember to bring shore chairs and a folding table. Harbor Island has no natural rock seating, so a chair is essential. Bring shore trash bags; Harbor Island is a nature preserve, so you may take only pictures and leave only footprints.
     Bring munchies to pass for two evening shore happy hours; cheese, smoked fish, dips, vegetables, cold cuts are always a hit. Bring your own shore beverages for the meals and happy hours. Bring a cooked breakfast meat to pass for pancake breakfast along with any custom pancake "fixin's," like blueberries or bananas. The pancake chefs Bill and Mel will cook them in your pancakes for you. You must provide your own table settings for the breakfast and the potluck. The walking taco dinner and table settings are provided. Registrants who have special dietary needs should contact Bill Matley.
     Plan now for your potluck dinner dish to pass. The potluck shore dinner has a tradition of some of the most delicious and interesting food items. Get out your favorite recipe books right now.
     Harbor Island is less than a mile and a half to the north of Yacht Haven. Harbor Island's inner harbor is 150 acres in size, over half of it ideal for lower-draft trailer boaters. The bottom has few if any rocks, and is mostly good holding mud. Trees are abundant right up to the water's edge — good for that stern tie to shore. The harbor provides excellent protection from most winds and waves. After the Wilderness Rally the west end of the North Channel is an ideal cruising ground, with many American as well as Canadian harbors and marinas to explore.
     The cost to attend the 2017 Wilderness Rally is $38 USD/boat and includes a GLCC Wilderness burgee. Registration will be taken on the GLCC website beginning in the spring. So make your plans now. Join us at Harbor Island June 28 – July 1, 2017, for the GLCC 2017 Wilderness Rally.
     The Wilderness Rally is a great way to see old GLCC friends and meet new cruisers who, just like you, wait all year to marvel at these — our Great Lakes. The Wilderness Rally anchorage can restore the soul, enrich your spirit and put your mind at ease.
     So join us and "Let's Go Cruising."
Click HERE to register online
Click HERE for a printable registration form
Director Bill & Sandi Matley 734-429-2798 wm1252@comcast.net or smatley@comcast.net
Event date:
Wednesday, June 28, 2017 - 12:00
to
Sunday, July 2, 2017 - 12:00