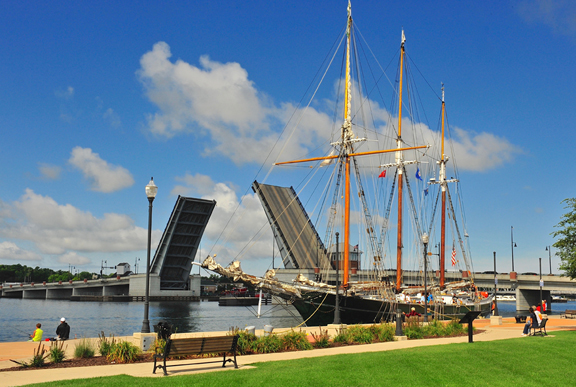 The 2017 Rendezvous in Sturgeon Bay, Wisconsin (M-72.5)
July 9–13, 2017
     Sturgeon Bay is a popular summer destination with lots to see and visit in a ship-building center steeped in Great Lakes yachting and maritime history. It is the gateway to fabled upper Door County, and nestled between Lake Michigan and the protected waters of Green Bay.
Click HERE to register online
Click HERE for a printable registration form and information on dockage and hotels
With a century of experience in treating summer visitors to a good time, this is no ordinary small town! It has:
Outstanding marinas and marine-service facilities.
Beautiful resort hotels.
Dining options galore, pubs and taverns in historic shopping districts.
A vibrant and diverse arts scene, with galleries, museums and performance venues.
Two Door County Historical Museums and a revered Maritime Museum.
 Historic structures mapped for walking tours.
Three of Door County's eleven lighthouses.
Three USCG Stations (in an official Coast Guard City).
A New Rendezvous Village Concept for July 2017
     There are Many Ways to Come - by cruising boat, of course! But you'll also be right in the center of things if you come by car, trailer boat, RV or public transportation.
     Our Rendezvous Village centers around two beautiful marinas, CenterPointe and Skipper Bud's QuarterDeck; the Sturgeon Bay Yacht Club; the Door County Maritime Museum; and the Bridgeport and Stone Harbor resort hotels.
     The City of Sturgeon Bay is the Gateway to the welcoming waters of the bay of Green Bay with its islands and coves; and to the famous Door Peninsula, nestled between Green Bay and Lake Michigan, with its picturesque villages, historic buildings and lighthouses; state parks, fish boils and tart cherry pie; fine wines and performing arts; and with an abundance of fine arts from sculpture to glass-blowing, from painting to photography.
     Our Four-Day Program mixes traditional events with cultural and sporting highlights, both on and off the water, with lots of opportunity for actual participation, and an emphasis on hilarity, along with learning useful skills.
Think you can sail a dinghy? Compete in our Regetta!
Can you really "heave a line", or board a dinghy from the water? Compete in our safety-on-the-water events, just for fun. We guarantee you'll learn something useful as well.
Enjoy a Door County picnic on the wooded shores of Green Bay, and a magical evening of summer theater with Peter and the Starcatchers.
Top it all off with a gala evening of music and dining at the Lodge at Leathem Smith.
Post Rendezvous Touring Options are exceptional by boat, and just as good by car or RV.
Great dining, shopping and leisure activities, easily accesesible by land and by water.
Come To Sturgeon Bay!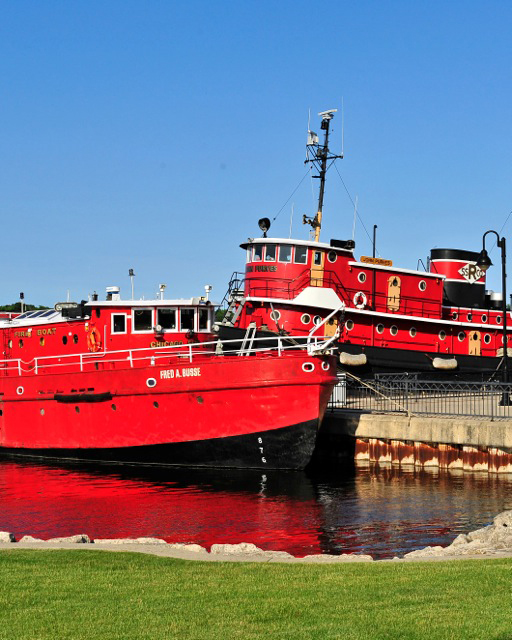 REGISTRATION FEE for GLCC member(s) & guests: $215 USD/person. Children age 10 and under are free of charge. The registration fee admits each individual to these events: Sunday: Pork Roast Bar-B-Q; Monday: Opening Ceremony & Brunch at SBYC and Commodore's Reception with light hors d'oeuvres; Tuesday: Full Breakfast, Marine Safety Drills, Ladies Art District Tour, Men's seminar on Apps for Cruising & Latest in Radar; Wednesday: Full Breakfast, Bilge Auction, Volleyball, Games & Activities, Sailing Dinghy Regatta at SBYC and Commodores Dinner Gala and Program. (US Cash bar extra).
 
ADDITIONAL FEE for Fireboat Excursion, Ladies Paella Luncheon, Optional kit to make bracelet, Peninsula Players: Bus, Picnic & Theatre and discounted admission to Maritime Museum & Great Lakes Tug and Men's Food-Truck Lunch (pay as you go).
Good News for RV Owners!
RV Parking Fees will be $1.50 USD per foot per day for five days, with a sixth day free of charge. No charge for towed vehicles or non-residential trailers. You will pay for parking at Rendezvous check-in. Electric power and water included. "Honey dipper" service available if needed. Great location near the Clubhouse at the CenterPointe Marina! Arrive on July 8th or 9th; depart on the 13th or 14th.
*REGISTER SEPARATELY FOR DOCKAGE, HOTELS & RV PARKING
(See printable Rendezvous registration form)
Explore further at www.doorcounty.com and www.sturgeonbay.net
Photos copyright 2016-17 by Richard Adolph Miller, Evanston, IL
REVISED SCHEDULE OF EVENTS (Click HERE for printable pocket schedule)
CP = CenterPoint; YH = Yacht Harbor; CD = QuarterDeck Marina; SBYC = Yacht Club
SATURDAY 7/8 for the early birds
Dress Ship for Monday's aerial fleet photos and launch your dinghies
1000-1600 CHECK IN at CenterPointe Clubhouse
Drop-off Bilge Auction items. Light refreshments & Girl Scout Bake Sale. Ship's Store open for Event & Raffle tickets, Caps, Shirts, Vests and other GLCC Gear.
1800 Join Joan and Richard Miller for a Dinghy Parade from CenterPointe to Waterfront Mary's for eats & libations or make other plans for dinner on your own.
SUNDAY, 7/9, 2017 - Official Arrival Day
0835  Directors load bus at CenterPointe, and
0845  Load bus at QuarterDeck, for Board Meetings at SBYC, GLCC 0900-1200, and GLF 1300-1500.
Dress Ship for Monday's aerial fleet photos and launch your dinghies
1000-1600  CHECK IN at CenterPointe Clubhouse
Drop-off Bilge Auction items. Coffee & donuts compliments CenterPointe. Light refreshments. Ship's Store open for Event & Raffle tickets, Caps, Shirts, Vests and other GLCC Gear.
1030  Book Group at CenterPointe Clubhouse with Vicki Jensen, Cell 612-581-1658
1530  First-Timers bus from CP, stops at YH & SBYC (for Directors), enroute QuarterDeck.
1600-1700  First Timers' Reception at Quarterdeck Bldg 3. Photo at 1645.
1645  Others board bus at CP, stops at YH
1700-1900  Welcoming Reception at Quarterdeck Bldg 3. Potluck, pulled-pork BBQ. BYOB and an appetizer or side-dish to share. Your Committee will provide meat, buns, dessert, soft drinks,disposable plates, glasses & cutlery.
1900-2100  Bilge Auction, Quarterdeck Bldg 3
2000-2200  Return bus service from QuarterDeck
MONDAY, 7/10
0745  Load buses at QuarterDeck and CenterPointe for transfer to SBYC
0815  Pre-Opening entertainment at SBYC
0830  Opening Ceremony at SBYC
0915-1030  Breakfast at SBYC GLCC Officers will serve
1030-1200  Port Captains meet at SBYC
1030 & 1230  Bus from SBYC to marinas via Maritime Museum
1030-1700  Maritime Museum & Tug Purves Half-price admission tickets for GLCC
1315  Bus from CP to Maritime Museum
1345  Bus from QD, then YH, to Marit. Museum
1415  Fire Boat Excursion from Maritime Museum tickets required.
1615  Board Bus at Maritime Museum for return to marinas.
1700  Bus, QD and YH to CenterPointe.
1715  Cruising Green Bay at CenterPointe Clubhouse with Marilyn Kinsey and Lou Bruska; BYOB & snacks for Happy Hour.
Dinner on your own.
TUESDAY, 7/11
0745  Load buses at QuarterDeck and CenterPointe for transfer to SBYC
0800-0915  Breakfast in CenterPointe Showroom.
0900  Presentation by Fire Chief Jim Dietman.
0930  Load Buses for Coast Guard Station or return to marinas & pick-up for USCG.
1000  Put out fires; shoot flares; view USCG Equip. Bring your outdated flares & extinguishers.
1200  Board Buses for return from USCG.
1200  Board Buses from QD & YH for lunch.
1230  Ladies Lunch, CenterPointe Showroom,
tickets required. Crafting a GLCC Bracelet and A Mail-Order Bride in early Door County with Maggie Weir, Historical Museum curator.
1400-1500  Glass-Blowing demonstration
 at Popelka-Trenchard Gallery.
1230  Men's Lunch at CenterPointe Showroom,
$20 cash cost - all you can eat. Apps for Cruising with Bob Smith.
1400-1500  Digital Radar presentation.
1515  Bus at CP Showroom for return YH & QD.
1700  Load Coaches at each Marina for the
Peninsula Players Excursion.
Boarding Pass required. Theater tickets and box picnic distributed enroute.
1930 Theater seating.
2000 Performance of Peter and the Starcatcher.
Load Coaches for return immediately after.
WEDNESDAY, 7/12
0745  Load bus from CenterPointe, and
0755  Pick up at Yacht Harbor, for breakfast
0800-0915  Breakfast in QuarterDeck Bldg 3.
0900  Boys & Girls Club presentation
0930  Electro-Shock Drowning, Dr. Alan Wentworth.
1000  Let the games begin at QuarterDeck!
Volleyball, bocce ball, horseshoes . . . or how about a splash in the pool?
1000 Bus option for return to YH and CP
1145 Bus from marinas to SBYC for optional cash lunch and then the UN-Regatta. Will make downtown stops.
1300  UN-Regatta at SBYC.
Skippers Meeting on the SBYC patio. Spectators on the lawn or afloat in dinghies. Bring PFD; wear a Costume! First Race starts 1345.
1615  Load buses for return to marinas.
1815  Load buses at QuarterDeck;
1825  Pick-up at Yacht Haven;
1830  Load buses at Center Pointe, enroute . . .
1900  COMMODORE'S DINNER GALA
summer whites and best boating party attire at the Lodge at Leathem Smith.
1900 Sparkling cocktail. Cash bar.
1930 Dinner & wine. Presentations & Raffle.
2130 Music & dancing until 2300.
2130 - 2330  Buses back to marinas.
THURSDAY, 7/13 Departure Day.  
---
First Round Drawing - Use your tickets
to bid on any of the following:
    • Quilt with whimsical lighthouses by
    CYNTHIA McNINE ($250).
    • Stainless Steel Dinghy Anchor from
    MANTUS ANCHORS ($192).
    • Mustang Survival deluxe inflatable PFD
    with harness from
    CROWLEY'S SHIP STORE ($165).
    • Set of Polyform marine fenders from
    CROWLEY'S SHIP STORE ($180).
Second Round Drawing- All tickets not
drawn in Round One will be combined for
a Second Drawing for:
    • SOS Distress Light & Electronic Flare
    with Distress Flag from
    WEEMS & PLATH ($99).
    • Tow-behind Ice Cream Maker from
    TACOMA PROPELLER ($52).
    • Waterproof Purse from
    MANTUS ANCHORS ($43).
    • Reusable Gear Ties from
    NITE IZE ($15 - $23 per pack)
Raffle Tickets available at Check-In.
5/$5, 25/$20, 50/$40, 150/$100.
Add 5 tickets for $3 with any purchase of
Rendezvous Caps and Tees.
---
GENERAL NOTES:
Announcements, if any, will be made at breakfast at 0845, on bulletin boards, or by email, but not by VHF. Each days events will begin near the breakfast location, or with bus transport. Lunch typically at 1230. Buses will load at CP on Quincy Street opposite Clubhouse; at YH on street near entrance, and at QD near Storage Bldg. 1. ahs339@yahoo.com
Click HERE to register online
Click HERE for a printable registration form and information on dockage and hotels
Chairpersons: Port Captains Joan & Richard Miller 847-946-2610 or 847-946-2642; jlmillerco@earthlink.net
Event date:
Sunday, July 9, 2017 - 12:00
to
Thursday, July 13, 2017 - 12:00