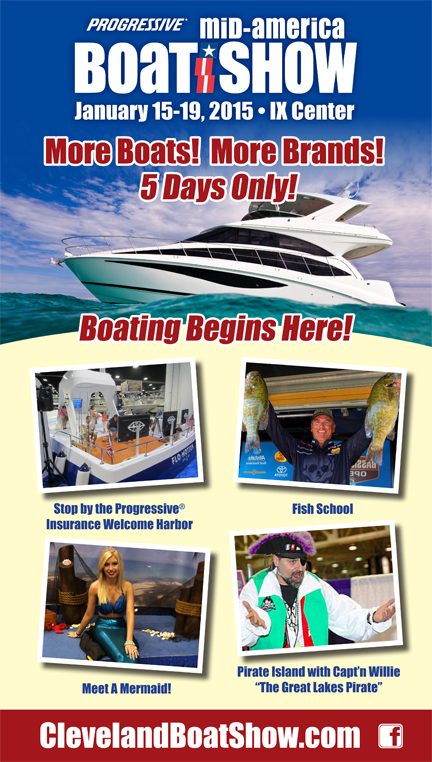 The Cleveland/Progressive Insurance Boat Show is quickly approaching. In fact, the dates are January 15-19, 2015 at the IX-Center at the Cleveland Hopkins airport. We invite you to come on out and join us at this fun and informative event! (For tickets and information, click the show link above or the picture to the left.)
     The Cleveland Boat show, along with the Toronto & Chicago shows have proven to be very successful venues for signing up new members for our club. Again this year, two of our highly energized Port Captains will present our seminar, Boating on Lake Erie several times during the week, extolling the benefits of GLCC membership, while entertaining the shows general audience with their entertaining presentations. To keep things running smooth, we are soliciting for volunteers to staff the Great Lakes Cruising Club booth during this five day run.
     Working a shift at the show, often provides ample time for members to "re-connect" during the cold/blustery days of our usually brutal Lake Erie winters, and not to mention, you get free admission —all while having some great fun & fellowship! So.....Please think it over, and consider volunteering. Remember we can assign couples, so why not make it a date? The shifts are:
     Thursday   1-15-2015:
1200-1630,
1630-2100
     Friday        1-16-2015:
1200-1700,
1700-2200
     Saturday    1-17-2015:
1000-1400,
1400-1800,
1800-2200
     Sunday
   1-18-2015:
1100-1430,
1430-1800
     Monday
1-19-2015:
1100-1400,
1400-1700
     Rear Commodore (Ret.), Dave Miller has agreed again to "manage the schedules", so please mail or call with your 1st & 2nd shift choices to him ASAP. He can be reached @ 216-210-2136 or
capdave@centurytel.net
. If you need a "custom," shift, do let us know, I'm sure we can work it out!
     If you have any questions, please don't hesitate to contact Rear Commodore Rich Barzyk @ 440-289-5243 or
morningstar7744@gmail.com
. If you're in need of reasonable over-night lodging, call the Radisson @ 440-734-5060 @ $77.00 a night or the Residence by Marriot @ 440-234-6688 @ $69.00 a night. Both hotels are nearby. 
     Working the show is a "Win-Win", for the CLUB gets promoted and YOU have fun!!! Thank you in advance for responding ASAP. Hope to see you there!