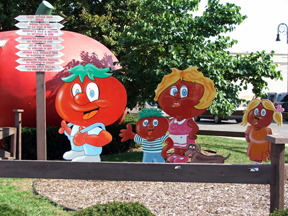 The 2014 Great Lakes Cruising Club Annual Rendezvous is fast approaching. This year it will be held at the Leamington Municipal Marina in Leamington, Ontario July 12th – 16th. We will be celebrating GLCC's 80th anniversary at the Rendezvous so, aside from our usual fun, expect some extra special activities!
A lot of planning goes into this event and we would appreciate you sending your registration right away. This will afford us the necessary arrangements and give us some time for the unforeseen last minute touch-ups, thus allowing us to meet and exceed your expectations of this experience!
Aside from the traditional Commodore's Reception and Dinner, Officer's pancake breakfast, we will have events for your recreational pleasure; a bilge auction, wine tasting, cruising food seminar, the popular Raghaulers vs. Stinkpotters volleyball tournament (if we have enough players), and a greenhouse tour. In and around the marina there are parks, trails, beaches and a golf course. You will have time to take in some of these if you so choose. We will have transportation available to take you to the Super Market-LCBO-Beer Store and there is local bus service to take you to town if you would like.