Annwfn was launched on schedule, Tuesday, May 26, in heavy rain and strong winds from the east. We delayed leaving until after supper, when the wind dropped a bit and the rain slowed. Then we motored the 16 miles from Mackinaw City to Duncan Bay, where we were met by docking helpers Mel and Sue Durchslag, about 10:30 pm, in heavy rain again.
Put the boat to bed, slept, then left for home Wednesday morning.
Back up for the weekend of May 30-31, but again rain and rain and wind and wind with highs in the low 50s and a 30-degree low Sunday morning. Worked a bit on the engine alignment, since we had too much vibration on the motor down from Mack City. Will leave that project til next weekend.
A couple of leaks in the deck--tough tracking down with the headliner.
Unable to put the sails us because of the wind.
Expensive dinner at the Duck Lake Bar, Saturday evening, and not much happening  on all day Sunday. With the cold weather, Duncan Bay is pretty dead. Boats seem to be launching late this year--the nearest to us on the port side is 5 slips away, 4 slips away on the starboard side.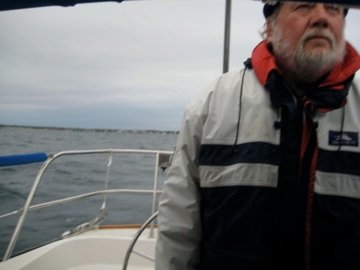 First motor of the year...