Looking west from the NPS dock at Windigo, Isle Royale, MI
Lake Superior Cruising - 2009 
May 25th, 2009 (Memorial Day)
Vicki and I launched Freelance this past Thursday as scheduled. It was the latest we've ever put it in the water, but we have no regrets. Family matters must always come first.
The boat is in fine shape for our summer sailing. All of the systems are in working order. The fuel and water tanks are full. The mast is tuned. Those small repair projects we had — such as installing a new paddlewheel sensor for the Datamarine log and the reconditioned wind wane — are successfully completed. The exterior fiberglass is all waxed, and the interior teak all oiled.
We are now looking forward to another fine sailing season on Lake Superior, and the Apostle Islands in particular. Our long-distance cruising plans for 2009 include visiting Isle Royale, which we haven't seen for several years. However, we have hedged our bets by also getting a Canadian remote border-crossing permit, just in case favorable weather conditions should tempt us to sail into the wonderful wilderness of the Canadian North Shore.
June 9th, 2009
This year's consistently cold climate in the Lake Superior region makes us remember some of our colder trips to the Canadian North Shore from our past. Our kids still call one of them The Arctic Cruise with great affection. If this cold weather keeps up,  this may well be another summer for thick fleece clothing and wool socks. We are pretty well prepared, though. Freelance has a reliable 12,000 BTU propane heater in the main cabin. It may get a heavy workout.
Regardless, it is a remarkable change from the outright balmy climate conditions we have enjoyed on the lake for the past decade. 
June 19th, 2009
We came back into Bayfield today, after spending a couple of days at Anderson Dock, Stockton Island, with our six-year old granddaughter, Hannah. It's always a pleasure to be out there. This time, there were just a few boats at the small NPS harbor, partly because it was mid-week and partly because of the unusually cold summer weather in Northern Wisconsin has kept many people away. This was the first time in about 10 years we have had to use our cabin heater on Lake Superior's South Shore in June. It was decidedly chilly at night.
Compared with last year, we saw many more kayakers. There was huge group – which included about six guides - which used the harbor basin at Stockton Island as an orientation venue, and then took off around Presque Isle Point. They had arrived by the Ashland Bay Express ferry boat. We've never before seen so many kayaks piled on its upper deck. It then dawned on us that it was the time of the annual Inland Seas Kayak Symposium.

Kayakers in the harbor basin at Presque Isle, Stockton 
Our return trip to the Apostle Islands Marina was uneventful. There was heavy fog to the East and West of our route back down the North Channel, but none in the channel itself. It was a excellent opportunity to practice with the Radar. 
June 22, 2009
Vicki, Hannah and I participated in the Bayfield Yacht Club's annual Rally to Ashland, which was held last Saturday. It was a new experience not only for Hannah, but also for Vicki, who had never raced before. Of course, it was more of a friendly competition, than a hard-core race, but a competition is always a competition. Freelance placed seventh out of 13 boats — several of which were owned by members of the Great Lake Cruising Club (GLCC) — which was a result we were quite happy with. We had not done anything to lighten our boat, even keeping our dinghy in our davits during the rally. Regardless, I was greatly pleased that others complimented Vicki on her ability to steer us to a favored position at the starting line.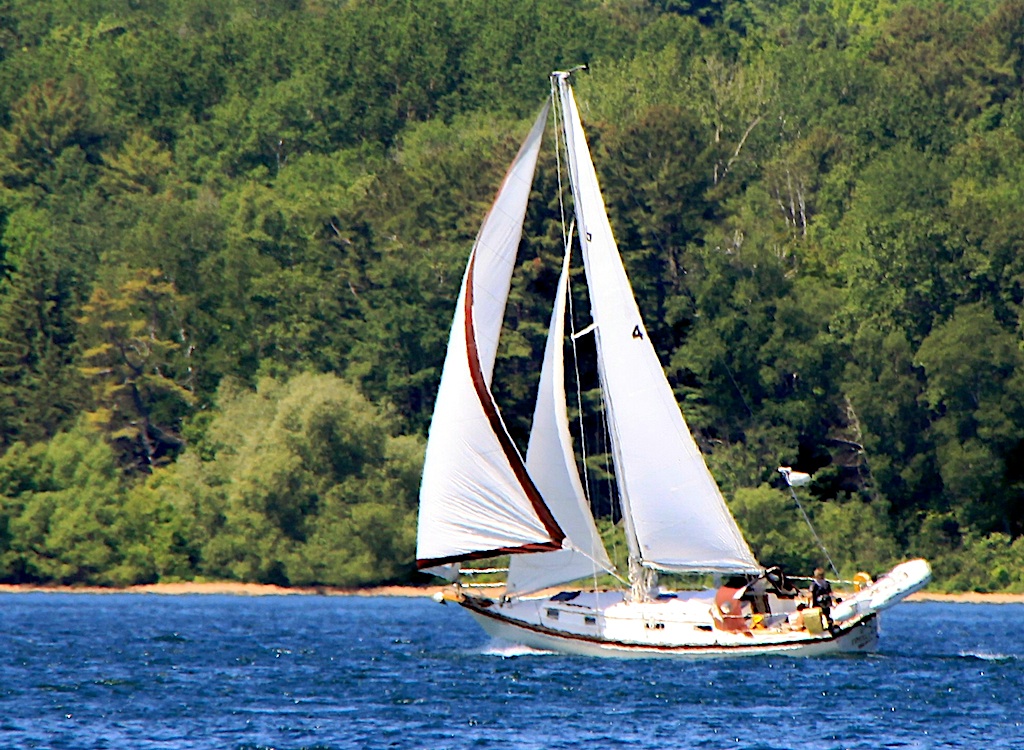 After the rally, there was obviously a lot of camaraderie at Ashland Marina, which was our destination for the day. The food was abundant, and everyone had a great deal of fun socializing on the pier. Hannah especially liked the shrimp, and playing Uno until midnight.
Due to a light northeast breeze, we motored all the way back to Bayfield on Sunday. As we neared Houghton Point, we passed a large laker, the American Mariner, which was down bound to Ashland with a load of coal or biomass fuel to the power plant. It's not often you get to see freighter traffic in the Chequamegon Bay any more, and it's actually hard to imagine that Ashland was once one of the most important commercial ports on Lake Superior's South Shore.

The American Mariner off Washburn, WI 
June 26, 2009
We're back home again in Minneapolis after a couple of very memorable days out in the Apostles, this time with our friends Srini and Shuba from Chennai (Madras), India. Sailing was a totally new experience for them, but they did extremely well for a first time. Their positive attitude and adventurous spirit made it a true pleasure to have them onboard Freelance.
The weather was calm, when we left Bayfield, so we used the motor to get us up to the dock at Stockton Island, where we spent the day enjoying the beaches, trails, and other attractions. The water was still too cold for swimming. We saw some huge cranes flapping their wings at the lagoon, but there wasn't any sign of the many black bears, which are known to roam the island. After a dinner of Caribbean rice and tomato soup, we played cards in Freelance's cozy cabin.
The sails were up during most of our return to Bayfield. We leisurely tacked down the North Channel in light air. The conditions were ideal for showing Srini and Shuba how a sailboat works, and they took turns at the wheel. About noon, we realized that we needed to hurry into port, so we would be able to make a family dinner committment back in Minneapolis. The diesel was reluctantly turned on, and we powered the final five miles to Bayfield, while tidying up the boat. We had Freelance back in the Apostle Islands Marina about 1300, and after some final cleaning chores and dropping off some mail from 401 K at Stockton Island, we were soon on the road. The four-hour drive was uneventful, and we made it to the Twin Cities in time for the dinner.
July 6, 2009
It was a very nice July 4th holiday week in the Apostles, which also was the time of the Bayfield Race Week. The Race Week seemed quite well attended this year, and many of the boats were based at the Bayfield City Dock. It was good to once more see a healthy activity level in town, after the early summer's unusually sleepy atmosphere.

Part of the racing fleet off of Basswood Island, WI
Vicki, Hannah, and I arrived in Bayfield on Tuesday, and Megan and Christian joined us on Thursday. The weather was improving by then, turning increasingly sunny, but unfortunately rather calm. It is a typical situation, when a high-pressure weather system is settling in over western Lake Superior.
On Thursday, we were at the dock at Quarry Bay, Stockton Island for the night, but sailed over to Anderson Dock at Presque Isle on Friday, just to change the view a little. We were rather surprised that there was dock space at either place. At Anderson Dock there was space available throughout the day, and the harbor never filled up completely, even though there were about 35 boats at anchor overnight in Presque Isle Bay.

Early Saturday, we had to leave the dock before 0900, because of the pending arrival of the tour boat. That was, of course, just fine. It was time to get to Bayfield for the July 4th festivities anyway. Back in town we were amused by the chaotic blindfolded dinghy race in the harbor basin, and waited patiently for the evening's fireworks.
The fireworks began at 2200 from a small barge stationed about 500 yards off the harbor entrance, and were spectacular for more than 20 minutes. They then paused for three or four minutes, after which a few final rockets went up in an unmotivated fashion. It seemed a little strange, like something had gone wrong, which had caused the operators to abandon their proper finale. I'm not sure, if that indeed was the case. However, when the barge was towed away, nearly the entire barge was ablaze with what appeared to be a huge bonfire. The flames were 10 to 12 feet high. It was an unusual — but spectacular — sight. It could have been intentional, but may not have been. It certainly was a sight to remember.
July 16, 2009
Drove 850 miles back yesterday to Bayfield from Port Colborne, ON, where Duane Flynn and I attended the 2009 GLCC Rendezvous. It was a truly well organized and fun yachting event, and it was an added bonus for me to finally see Niagara Falls. The falls are everything they are said to be. It was an experience.
July 26, 2009
Vicki and I arrived at the Apostle Islands Marina at 1540, where Bill and Judy Rohde helped us load our provisions and gear aboard Freelance. Two hours later, we motored in calm conditions to Julian Bay, Stockton Island, from where we were planning to leave early in the morning. There were 16 other sailboats anchored in the large bay for the night. Some of the people aboard them must have sailed in the Caribbean, because several blew conch horns at sunset.
July 27, 2009
Freelance was underway at 0600, bound across the Lake Superior to Grand Marais, MN. We've done that 50-NM passage so many times now that we've lost count. On this day, the skies were overcast and the air was light, making it necessary to motorsail most of the way. However, we made good progress in comfortable conditions, running with a respectable cruising speed of about 6.5 knots most of the way. As we neared Grand Marais, we slowed down a bit to let a squall pass in front of us up along the Sawtooth Mountains towards the NE. We could clearly see another one coming from the W. The latter one passed behind us, after we had safely tied up to the long concrete pier by Grand Marais picturesque lighthouse.
While we leisurely tidied up the cabin, I called our friend Terry Meath, who with his wife Judy had moved to the North Shore town a fewyears ago. He answered my phone call on the first ring, and said: "look outside." He was standing on the pier, grinning. We spend the rest of the day with Terry and Judy, getting a tour of the grand house they have built; having dinner at Sven & Ole's Pizza – which is something we always did, when we cruised with the kids; and relaxing the Freelance's cockpit.
 July 28, 2009
(Our Isle Royale Cruise description will be posted at a later date)
August 8, 2009
Julian Bay is always pleasant. We slept in and lounged around for most of the morning. Our hook was up at 1145, and we were again moving. An uncertain southeasterly weather forecast suggested that we should try to get into Anderson Dock at Presque Isle. When we arrived there, we luckily managed to get a space on the long dock, which is reserved for the ferryboat until noon. Duane Flynn and other GLCC friends greeted us, and helped us tie up. Later, Duane and Mar proudly showed us their new express cruiser, again named Inisfree, which they had just brought up from Holland, MI. It was impressive.
Partier, the Benetau 393 owned by our friend Tim Larsen, dropped anchor in the bay. His crew was his brother and sister-in-law. They all joined us for snacks and drinks in Freelance's cockpit, where we toasted our absent friend, Sally Spencer. The weather was warm, especially compared with our recent experience on Isle Royale, where Vicki every morning had been able to see her breath inside the cabin. All in all, it was a very social and relaxing day at Stockton Island.
August 7, 2009
At 0830, weather was developing, and we needed to make room at the dock for the ferry. So, we left Stockton Island for Bayfield, where we bought new provisions and dug some left-behind spare parts out of our dock box. None of the spare parts that I had brought along on our cruise had been needed, while those that we could have used were left in Bayfield. Next time, I will bring our bin with all of the parts, even our spare injectors.
Our friend Chuck Wendle joined us about 1415 as planned, and we left for the Madeline Island Yacht Club, which was the 2009 venue for the GLCC Rally. It was good to see all our friends, and the dinner at the Pub was a big success.
Mar Flynn and Vicki at Madeline Island Yacht Club
August 9, 2009
We returned to our home marina after the very successful GLCC event at Madeline Island. We said our goodbyes to Chuck, and drove back to Minneapolis. It had been a wonderful two-week adventure.
August 18, 2009
Yesterday, Vicki, Hannah and I sailed out to Raspberry Bay, where the Bayfield Yacht Club had scheduled its annual star-raft party. It was a warm day, with temperatures in the 80s. It was about time we had some real summer for a change.
BYC star raft at Raspberry Bay
The star raft broke up at 1700, when the 12 other boats decided to return to Bayfield. The forecast called for a major weather front to more through during the night, which would bring rain and strong winds. We chose to remain in the anchorage, because Raspberry Bay is one of the most protected anchorages in the Apostles, when the wind is from the south, and we really wanted to stay out overnight. We weren't alone. There were 22 other sailboats and two motorboats in the bay.
The rain began at 2115, but was weather was not a big deal. As expected, we were well protected, and had a peaceful night.
We took our time in the morning. Hannah and I walked the dog on the beach, and briefly visited the Mawky, a Tartan 37 owned by Carl Southerland. Our anchor came up at 1230, and we motored back to Bayfield at our normal motoring speed of 6.5 knots. The wind was — once more — directly on the nose, which could have doubled our return time, if we had tacked Freelance all the way. Normally, that would have been great fun, but the winds were supposed to build significantly, and Vicki and I wanted Hannah – who is nearly seven years old – to have another stress-free boating experience. We were back in port at 1435.
The VHF came alive less than two hours later, when the winds gusted to 40 knots in the marina. At first, there was just the usual chatter from boats that were seeking shelter. Then, there were a series of Pan-Pan calls. A sailboat was reported dismasted at Schooner Bay; kayakers were in trouble at Meyers Beach; and someone needed assistance at Michigan Island. Vicki and I were frankly surprised. The increase in wind and waves was foretold in no uncertain terms, and people had plenty to time to take any necessary precautions.
We had "Hannah's Darn Good Chicken" for dinner as per Hannah's request, and later played Uno with Paul Zadel from White Oyster.
August 28, 2009
Yesterday, Vicki and I left Bayfield after finally getting some lingering brightwork projects out of the way. The sorry state of the port caprail had especially been an embarrassment, but we had unfortunately not had a suitable weather window for getting the work done until now. It felt good to have it looking shipshape again.
We rounded Red Cliff Point at 1520, at which time we had VHF radio contact with Our Lady, and at 1610 were anchored in Raspberry Bay. The weather was obviously unstable, but we were well protected from the approaching weather. It was raining at 2130. The bay was calm.
At 0150, the changing motion of the boat woke me up, so I climbed out of the V-berth and went on deck. We had a small northeast chop in the bay. That was somewhat consistent with the Weather Service's forecast for light east winds, which were going west, and it certainly wasn't anything to worry about. However, I decided to try to sleep in the main cabin, knowing I would not be able to rest up in the V-berth. The motion also woke Vicki up at 0330, and she moved to the main cabin as well.
It was raining at 0600, and there now was a pronounced swell from the north, which was a clear sign heavy weather - possibly a gale - was coming. There was no reason for us to remain in the bay. Freelance's anchor was up at 0615, and we motored back towards Bayfield, where we arrived 0745.
August 30, 2009
The predictions of a gale proved right. Yesterday's weather was indeed blustery, with strong winds in our sector, and even stronger winds to the east. The wave height was predicted to be between 10 and 12 feet over at Black River Harbor. Some kayakers got in trouble between Madeline and Michigan Islands, and the NPS and USCG had to go looking for one of them. They eventually found him out in open waters, blown half-way to the State of Michigan. He was alive, but exhausted.  
Due to the forecasted weather conditions, we had chosen to stay in port. Our friend Joann Pesak had come up for the weekend, and we spent a pleasant evening with Gregg and Kim Haug on their trawler All the Way in Pike's Bay Marina.
Today, we enjoyed a fine light air sail out to Raspberry Island. We tacked up through the West and Lighthouse Channels. When we were at Red Cliff Buoy, Inisfree came zipping in from the western approaches, and headed down to Pike's Bay. We dropped our hook in Raspberry Bay's East Bay at 1425, and took the dinghy over to the lighthouse landing. The friendly ranger at the restored lighthouse gave Joann and I an abbreviated tour of the facility, while he was waiting for a boat to take him off the island. It was nice of him to accommodate us. He didn't have to.
After a picnic on the lighthouse grounds, we returned to Freelance in the East Bay, and quickly raised the anchor. Joann needed to drive back to the Twin Cities in the evening, so we unfortunately couldn't stay out in the beautiful islands for the night. We were back in Bayfield at 1835.
September 2, 2009
On Monday afternoon, we talked via mobile phone with Marek and Dorota Kaminski about finally meeting up out in the Islands. Their boat is Our Lady, a Catalina 36, which they keep in Blackhawk Marina. Vicki and I eventually got underway at 1600, and motored towards Stockton Island, where we caught up with Our Lady east of Presque Isle Point. They had left Bayfield well before us, but used their sails nearly all the way, thereby unintentionally giving us ample opportunity to catch up.
The weather forecast indicated Julian Bay would be a favored place to spend the night, so both Freelance and Our Lady headed there, and anchored close by each other. After dinner, Our Lady's crew came over to Freelance, where we had an enjoyable time socializing in our cockpit.
The next morning, Vicki and I took up Freelance's anchor at 0820, and quickly sailed around the peninsula to Anderson dock, where we managed to get dock space. Inisfree and Can-Am were already there. Later, the crew of Our Lady hiked across the tombola to the small harbor, where we introduced them to Duane and Mar. Marek was especially eager to talk to Duane about a VHF radio transmission problem, which appeared to be caused to low battery voltage. Of course, Duane and Mar also gave them a comprehensive tour of their beautiful new express cruiser.
All in all, this was a very social day, but I still managed to get a third coat of Cetol stain on the port caprail. Duane and Mar had dinner with Vicki and I on Freelance. Afterwards, we all joined Vic and Judy from Can-Am on the dock, where we enjoyed some fine wine and snacks. The evening's "show" was the planet Jupiter, which was shining brightly in the eastern sky. We were easily able to observe its moons with our binoculars. It was very special.
Today, it was just too nice at Stockton Island to return to Bayfield, so Vicki and I decided to stay one more night at the dock. Inisfree left at noon for the twin ports of Superior-Duluth. Duane and Mar can now make that 60-NM passage in about three hours. For us, it's usually a 10-hour cruise.
At Anderson Dock, Stockton Island
September 8, 2009
On Thursday, Vicki and I sailed back into Bayfield, so she could drive back to work in the Twin Cities. She had hardly left town, before Chuck Wendle and Mike Poskozim arrived to serve as my crew for the Labor Day weekend. We didn't waste much time. Freelance was again underway at 1520, bound for Presque Isle, Stockton Island, where we managed to tie up in the cruise service's spot.
The evening was occupied with a fun presentation by the local NPS ranger, a baked whitefish dinner, and observing the moons of the planet Jupiter.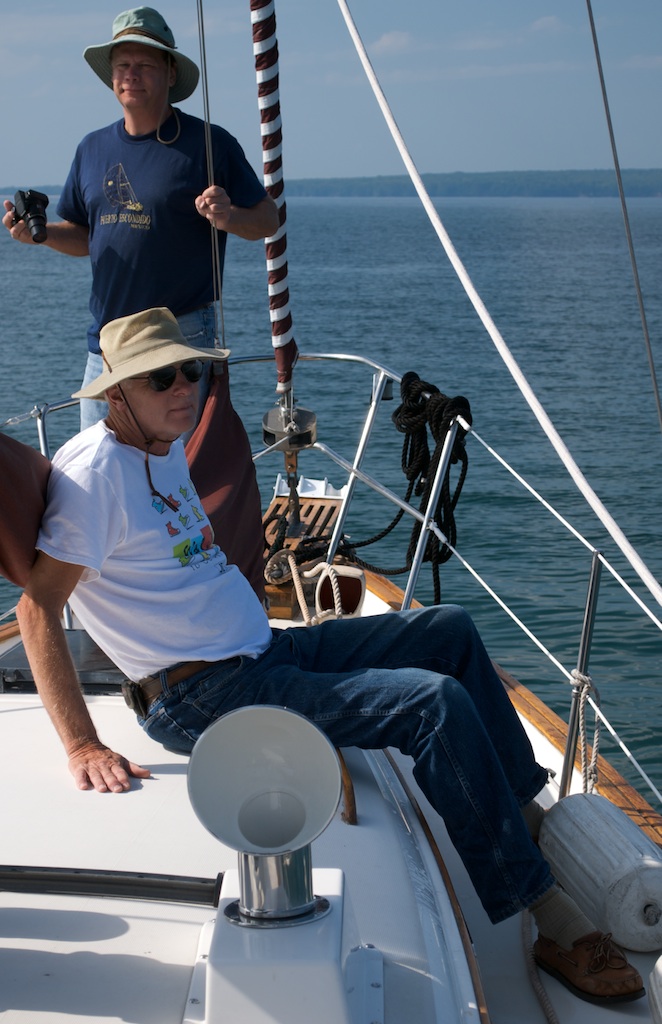 Early the next morning, Chuck served up an incredibly huge pan of baked oatmeal for breakfast. It was delicious, and we certainly ate all what we could, but there was no way we could finish it. So, knowing we had more than enough food on board for rest of the Labor Day weekend, Chuck went from boat to boat offering warm breakfast to anyone, who wanted it. He practically fed the entire harbor, and made us very popular. Some even asked for his recipe. One person especially wanted to use for a large and important family event.
We had to be off the dock by 0930 to make room for the incoming tour boat. The conditions were sunny and dead calm, so realizing it wasn't an ideal sailing day, we just moved about 300 yards off the dock and dropped our anchor. We sat out there for about three hours, lounging and telling tall tales on deck, while we patiently waited for the Ashland Bay Express to leave.
The moment the Ashland Bay Express fired up its engines, we also started Freelance's diesel and raised the anchor. When the ferry was safely out of the small harbor, we as planned rushed in to claim its space. It was not a moment too soon. Within five minutes after we were tied up, the small harbor was filled to capacity.
We spent the rest of the day hiking, relaxing, and visiting with other boaters. At 1800, we attended an open NPS meeting about the managing plan for the Apostle Islands National Lakeshore. It was both interesting and informative. The main issues appeared to be the continued used of the buildings, which currently are occupied by life-lease holders, and a possible relocation of the Presque Isle campground. Both proved to be very touchy subjects for some of the people, who were attended the open meeting. 
Saturday morning brought a disappointment. Everything was veiled in heavy fog. It was so thick, it was hardly possible to see from one pier to the other. So, after Mike had made us crepes for breakfast, I walked up to the ranger station, where I asked if the ferry would be coming. It was not. We did not have to leave the dock, and the limited visibility made it prudent to stay put, and just enjoy a weather day on the island.
During the morning, Dean Rau from the cutter Raven and I had a long conversation in Freelance's cozy cabin, while Chuck and Mike went on an extensive mushroom and berry-hunting hike with the local ranger. I am not particular excited about looking for mushrooms, having been told all kinds of tragic poison stories, when I grew up in Denmark.
All in all, it was a very social day, where we visited with many of the other boaters. In the evening, Mike made his famous chicken artichoke for dinner.

 Fog in Julian Bay, Stockton Island 
The fog had lifted on Sunday morning, and at 0850 we were finally off Anderson Dock. We sailed in light air with the main and topsail towards the southern end of Stockton Island. After rounding the island, we put up the cruising chute. The large and colorful sail gave us a speed of somewhere around four to five knots, until the wind gradually died over by Otter Island, and it was again dead calm.
The settled and sunny weather made it an ideal opportunity to motor out around the fabled Devil's Island. We were soon on our way, while Chuck was busy making submarine sandwiches in the galley. He had intended to bake them, but had to heat them on the stovetop instead, because of the continuing problems with the propane oven.
We went as close in-shore to the picturesque and unusual island as was safe, and turned clockwise around it. At the light station at its northern end, where there are some spectacular sea caves, at least a dozen boats laid quietly at anchor. I've never before seen so many boats at this location.
North end of Devil's Island
Going south again, I decided the anchorage at the north end of Oak Island would be a favorable spot to spend the night. There were 13 other boats, when we arrived at 1355, and more would follow, gradually filling up the entire bay. We used the dinghy to look at the large hole-in-the-wall rock formation, and walked the beautiful beach for a while. Back aboard Freelance, we tried to repair the oven, and discovered that the cockpit propane lockers had filled with water. We cleared their clogged vents, and suspected the moist regulator might have been part of the problem, but were still unable to get the oven to work. However, that did not prevent us from heating up the rest of the Chuck's lasagna for dinner. 
On Labor Day, we left the Oak Island anchorage at 0915, set a course back to Bayfield, and docked at the Apostle Island Marina about two hours later. We cleaned up the boat, and Mike again attempted to fix the oven – this time with success. Apparently, one of the thermostat parts had touched something it wasn't supposed to, thereby confusing its controls. I was very happy to have a working oven again. Vicki and I depend on it a great deal for our meals.
September 15, 2009
Freelance was hauled out yesterday. Vicki was visiting with Kirsten, Kartik and Anika in Chicago, while I toiled with our usual long list of decommissioning and winterizing chores. Fortunately, Erik and Kristen were able to come up and help me take the boat apart over the weekend. They were a great help. It wasn't all work, though. We had a wonderful spinnaker (cruising chute) run under sunny skies on Saturday. It was a fitting and festive end for the sailing season.
It is obviously terribly sad to see the season's end, especially so early in September. We normally haul-out after Bayfield's Apple Fest, but we – again – will miss the popular festival, due to family commitments.    
 End-of-season haul-out at the Apostle Islands Marina, Bayfield