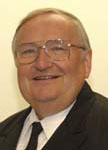 Jim "Bullfrog" Richlak was elected as the new GLCC Commodore for 2008 at the  Annual Meeting Saturday, 27 October 2007.
J. E. Fordyce, Toronto, was elected Vice-Commodore; Phil Doolittle, Rochester Hills, Michigan, was elected Secretary; and Tim Boehlke, Goshen, Indiana, was elected treasurer.
Last year's Rear Commodores were all re-elected, and David Allen, Alliston, Ontario, was elected the new Rear Commodore of Georgian Bay.  New members of the Board of Directors are Leonard Nowak, Chicago, and Niels Jensen, Minneapolis.