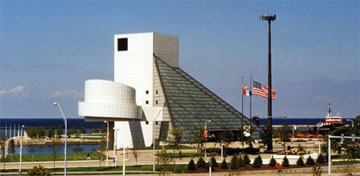 If you're cruising Lake Erie after the
2014 GLCC Rendezvous in Leamington
, exploring the south shore should entail a stop in Cleveland (E-10). This can be a very rewarding experience for the whole family as few cities can match Cleveland's cultural and recreational resources. The city offers professional performances in theater, dance, symphony, jazz, rock, opera, and ballet on a regular basis. For the sports enthusiast, Cleveland has major league teams in baseball, basketball, football, and soccer.
The highly regarded Places Rated Almanac recently rated Cleveland as the second best recreation place based on statistical ratings of 354 metropolitan areas in the United States.
(Click
here
for GLCC 2014 Leamington Rendezvous registration and information!)
The big news this summer is that the city of Cleveland has opened a new marina for transient boaters at North Coast Harbor. North Coast Harbor is a district in downtown Cleveland on the shore of Lake Erie. The district serves as the home of the Great Lakes Science Center, the Rock and Roll Hall of Fame and Museum, Cleveland Browns Stadium, the Steamship William G. Mather Maritime Museum, the WWII submarine USS Cod, Burke Lakefront Airport, Voinovich Park, and the Cleveland-Cuyahoga County Port Authority.
Cleveland architect Paul Volpe's contribution to the marina was the floating amenities building that houses restrooms, showers, and laundry.  The marina is located on the seven-acre North Coast Harbor basin, which is just north of the Rock and Roll Hall of Fame and Museum. While in the vicinity, you may wish to spend an evening or two taking in some of the local venues. Visitors should call Visitor Information at 800-321-1001 or visit
http://www.thisiscleveland.com
for a free visitor's guide.