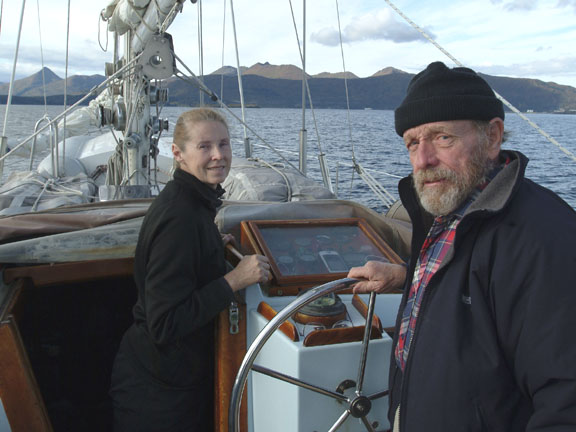 World famous sailors Roger Swanson and his wife Gaynelle Templin will be the featured speakers at the Lake Superior Mid-Winter Dinner. This popular GLCC event will be held on Saturday, January 16th, again at the Historic Fort Snelling Officers Club, St. Paul, MN.
Swanson and Templin are among the most accomplished and celebrated contemporary exploration sailors from the USA. Having completed three world circumnavigations, three roundings of Cape Horn, two Antarctic trips, and three Northwest Passage attempts aboard their 57-foot Bowman ketch Cloud Nine, Swanson has put 215,000 nautical miles under the keel and Templin some 80,000 miles.
In 2007, Cloud Nine became the first American sailing boat in history to transit the Northwest Passage from Atlantic to Pacific via the Canadian Arctic. It was done in one season.
Their legendary sailing accomplishments have received worldwide recognition: the Blue Water Medal from the Cruising Club of America, the Tilman Medal from the Royal Cruising Club of England, the Barton Cup from the Ocean Cruising Club and the Seven Seas Award from the Seven Seas Cruising Association.
Swanson and Templin have kindly agreed to share with us the highlights from their many years of voyaging, and in particular their successful Northwest Passage. You don't want to miss hearing about the extraordinary achievements of these two remarkable Minnesota sailors, who dared to dream big, and then delivered on those dreams. We hope to see your there. For information and registration for the Lake Superior Mid-Winter Dinner, please click HERE.