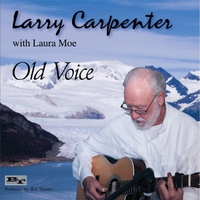 Several people have asked about the music used in the GLCCSchool "Lobby" area 15 minutes prior to the start of each GLCCSchool webinar. GLCC member Larry Carpenter has kindly offered GLCCSchool the use of tracks from his two recent CDs, and that's the music GLCCSchool students have been hearing. For those who are interested, Larry's latest CD, Old Voice, is now available for purchase at CD Baby.
"Old Voice" will take you from the wilderness of Lake Superior's Canadian shore to the glaciers of Patagonia to farms on the Great Plains, the Labrador coast and to the Australian Outback. Many of the songs have a nautical flavor and can often be heard from the deck of Carpenter's sailboat, Allegro, on Lake Superior. If you're a sailor, a wanderer or a folk singer, we think you will be impressed with this collection. 
Another Larry Carpenter CD also features tracks used in the GLCCSchool lobby. That CD, "Across the Water", can be obtained directly through him. For contact information click Larry.