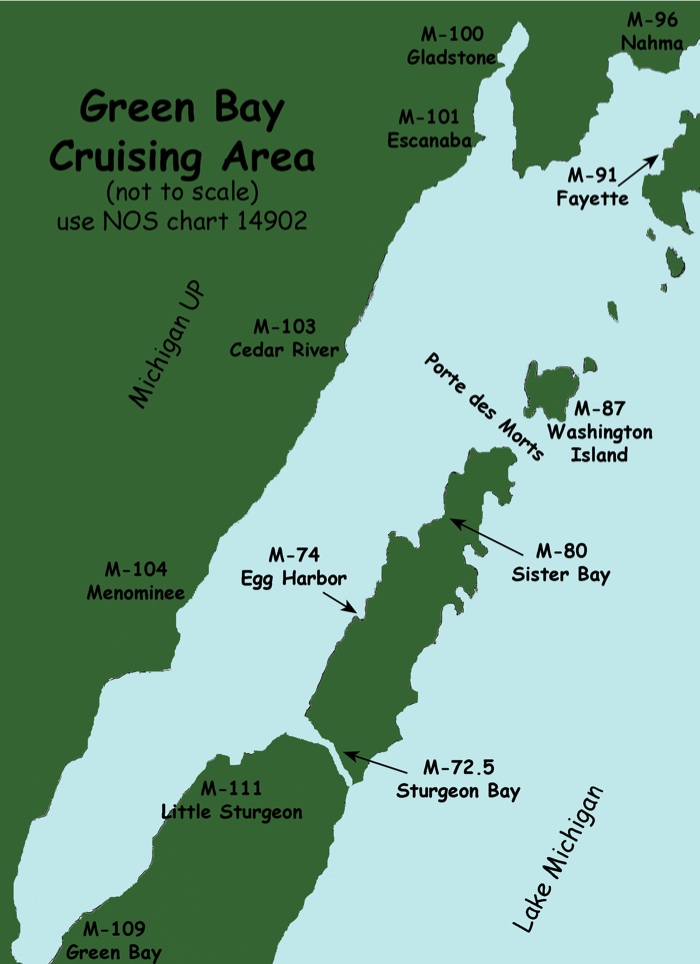 By Port Captain (Escanaba) Marilyn Kinsey
When planning your 2013 summer cruise, the Green Bay harbors and anchorages provide an excellent opportunity to explore a unique corner of northwestern Lake Michigan, before or after attending the GLCC Rendezvous in Charlevoix (M-6), MI. Green Bay, being a relatively small body of water, about 115 miles long and 20 miles wide, is also shallower and therefore warmer than Lake Michigan. Its conditions in June are noticeably more comfortable than the open waters of Lake Michigan early in the season. 
The GLCC's Green Bay Harbor Report (M-72), provides an excellent overview of this wonderful cruising area. However, specific services have changed since the report was written, i.e. airports, groceries, etc., so please check the individual Harbor Reports for the most current information. 
There are 4th of July and other summer activities in almost every community. Escanaba (M-101), the largest marina in northern Green Bay, will be celebrating their sesquicentennial, 150 years as a city, from July 5-14 with a wide variety of activities, many at the waterfront in Ludington Park. For sailboats, Big and Little Bay de Noc, at the far north end of Green Bay, are renowned as one of the top 10 sailing locations in the world. Shore effect winds almost every afternoon combine with the prevailing winds for fine sailing. Knowledgeable local sailors allow the wind direction to determine their destination, eventually clocking around to bring you home, in a series of 3-5 days of pleasant day sailing. 
When planning a visit to Green Bay, a look at the GLCC's Appendix A3 - Great Lakes Currents, will provide useful insight. The counterclockwise currents in northern Lake Michigan, combined with prevailing westerly winds, and long distances between safe harbors and anchorages make planning a route and alternatives worth your time.  The shortest distance to cross the lake is between Frankfort (M-16) and Sturgeon Bay (M-72.5). To or from Charlevoix via any of the northern passages between the islands, which separate Green Bay from Lake Michigan is a more scenic wilderness experience. 
Although there currently is not a GLCC Green Bay event planned for June, or after the Charlevoix Rendezvous, be sure to fly your burgee, and introduce yourself to any other GLCC members, who are also enjoying this delightful cruising ground.