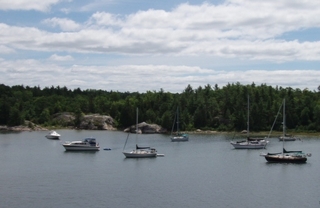 Join the couple who literally "wrote the book" on anchors and anchoring for this informative and eye-opening webinar. On Saturday morning, December 5, at 10:30 am Eastern/9:30 am Central, Captains Alex and Daria Blackwell will present Happy Hooking -- The Art of Anchoring. Whether cruising on the majestic Great Lakes or chartering in the Caribbean or beyond, understanding how to safely and effectively anchor is an essential skill. Knowing about anchors, rodes, anchorages and anchoring techniques is a prerequisite for enjoying an evening in a magically beautiful setting as well as getting a good night's sleep while swinging from the hook. Click here for more information and to register for class.
Much has changed over the years and the new gear offers serious technical advances over the older standard options.  The goal of this session is to either help you get more confident using the gear you have, or to help you select new gear and understand how to deploy it correctly.  The webinar will examine available equipment and its performance under simulated and real conditions. In addition, the webinar will cover:
Tackle and Anchor Selection
Techniques for Setting the Anchor
Scope, Chafe, Snubbers, Kellets, Trip Lines and More
Anchorage Selection: Charts & Guides, Picking Your Spot, Swing Radius
Setting Two Anchors and Med Mooring
Weighing Anchor
Anchoring Etiquette 
Don't miss this webinar by the folks who literally wrote the book on anchors and anchoring!